Family Feud! Teresa Giudice & Joe Gorga Come To Blows Over Melissa 'Gold Digger' Slur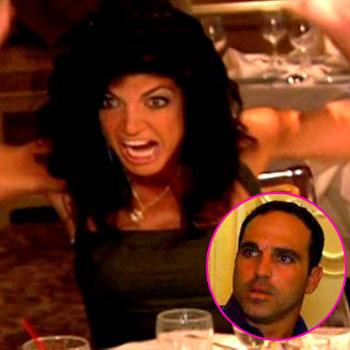 The Real Housewives of New Jersey had plenty of fireworks in its fourth season premiere Sunday, leading off with a nasty spat between Teresa Giudice and her brother Joe Gorga after Teresa suggested Joe's wife, fellow housewife Melissa, is a gold digger.
Joe confronted Teresa after hearing she had been telling friends that Melissa would leave him if a "richer man" came along.
"You're supposed to encourage my marriage, not break it down," Joe beseeched Teresa, later saying in an off-camera interview, "Teresa is in serious denial about life.
Article continues below advertisement
"Life is not perfect: We all have issues," Joe said. "If you don't have issues, you're not human, so be real and I'll be real with you."
Another spat in the episode occurred between Teresa and housewife Caroline Manzo, after Teresa cracked in her cookbook that Manzo is "as Italian as the Olive Garden."
Giudice told Manzo in her defense: "I think you misread it because if you really read it good you'd realize I didn't insult you."