'The Real Housewives of New Jersey' Return To Duke It Out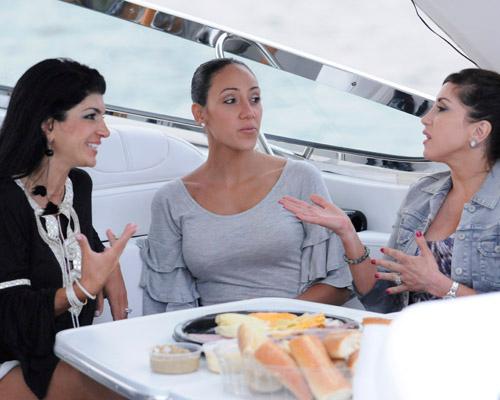 On season four of The Real Housewives of New Jersey, it's summertime in the Garden State; but on this show, you can't outrun the drama just because you rented a shore house. When we join the group, Teresa Giudice's cookbook is out, and the shots she takes at Caroline Manzo in it (like calling her "as Italian as the Olive Garden") start a firestorm. Though Teresa tries to apologize, Caroline isn't buying it.
Article continues below advertisement
"It wasn't heartfelt," she tells Star. "You can't erase what's in black and white. But if you've been a viewer for the past three seasons, you know that it's not just about a cookbook."
True, everyone has major issues with Teresa, which is even more apparent when she and her family, plus brother Joe Gorga and his wife, Melissa, and cousin Kathy Wakile and her husband, Richie, head down to the Jersey shore. But family bonding takes a backseat when Teresa implies that Melissa is a gold digger.
Meanwhile, back in Franklin Lakes, Jacqueline Laurita, who skipped last season's reunion show just to avoid Teresa, has her own drama as she debates whether to kick her troubled daughter, Ashley, out of the house again.
As if dealing with Teresa weren't enough stress for Caroline, migraines send her to the doctor's office, where she gets the news that all women dread: She's in menopause. "I'm going to be 51 in August, so the clock is ticking," Caroline tells Star. "It's that time."
So how is everyone's favorite Housewife faring in this world of headaches, mood swings and night sweats? "I'll be so aggravated and want to rip somebody's head off, but then I'll think, 'It's you, Caroline. Don't say a word,'" she explains.
"It's a learning process, but if I'm going through it, I'll go through it with flair. I will figure out how to do it in the most badass way possible!"
Premieres Sunday, April 22, at 10PM on Bravo