Real Housewives Of New Jersey: Teresa Giudice Gets Into Knock-Down Fight With Brother Joe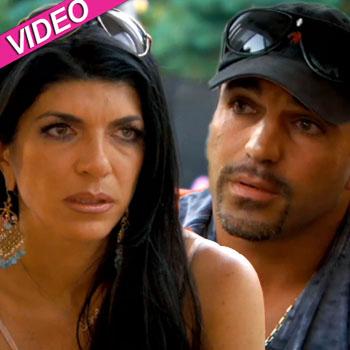 New Jersey to Philly might only be a train ride away, but there was no Brotherly Love to be found on Sunday's episode of The Real Housewives of New Jersey, as Teresa Giudice and her brother Joe Gorga got into a knock-down, drag-out war of words at a pool party hosted by fellow housewife Kathy Wakile.
As RadarOnline.com has previously reported, there's been tension between Teresa, Joe and his wife Melissa over a comment Teresa made, claiming beautiful Melissa would leave Joe for a richer man if one came along.
Article continues below advertisement
Heading into the pool party, Joe was looking to make amends with his estranged sister.
"I don't want to argue anymore," he said. "I hope Teresa wants to fix it as much as I want to." (Fat chance, as Teresa labeled Joe "the meanest brother ever" in their dispute.)
When they eventually faced off, Teresa told Joe, "You're not my brother anymore. It's a shame. I tell you something in confidence and you start this big war. We were going good, and you went and told your wife about the gold-digger comment."
Joe told his sister, "All I want you to do, once in a while, is realize you're wrong … how about being my sister? Being an aunt to my kids? How about just being normal? You got lost in life … I want you to snap out of it."
Teresa wasn't buying into brother Joe's sentimental sell, telling Joe, "When you were having your first child, I was having my third -- I didn't have a nanny -- my mother wasn't my nanny."
Article continues below advertisement