President Barack Obama Addresses Support Of Gay Marriage On The View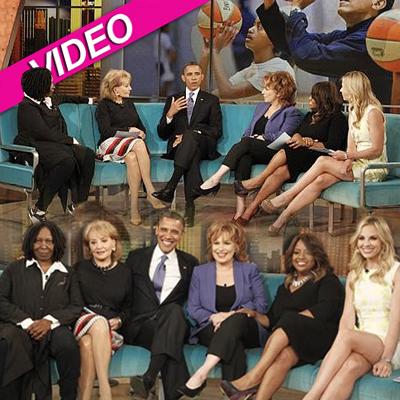 In his first TV appearance since becoming the first sitting U.S. president to declare his support for gay marriage, President Barack Obama appeared on The View Tuesday.
In the pre-taped interview, Obama was asked about his stand versus GOP challenger Mitt Romney. "This is going to be a big contrast in the campaign because you've got Governor Romney saying we should actually have a constitutional amendment installing the notion that you can't have same-sex marriages," he said, in a preview released by ABC network.
Article continues below advertisement
Obama told The View's co-host Barbara Walters that he did not think the Defense of Marriage Act was constitutional, adding, "This is something that historically had been determined at the state level and part of my believing ultimately that civil unions weren't sufficient, and I've been a longtime supporter of civil unions for same sex couples, was partly because of the issue of social security benefits and other laws."
The commander-in-chief also opened up on his relationship with V.P. Joe Biden; how the economy will ultimately determine the winner of the election; his controversial Newsweek cover; and how a small group of family and friends roasted him for his 50th birthday.
"I like hanging out with women," joked the president, who also showed off his pop culture chops with a pair of timely references: of the steamy hit novel 50 Shades of Grey, he said he wasn't familiar with it, but would be speaking with wife Michelle about the book; he said he knew which Kardashian sister got married in the past year -- Kim, of course -- "because it was to a ball player."
Article continues below advertisement