President Clinton: 'Barack Obama Is An Amateur'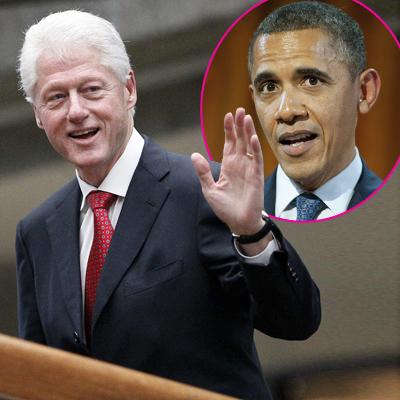 Former President Bill Clinton called current President Barack Obama an "amateur," according to Edward Klein's The Amateur, a new memoir about the current commander-in-chief.
"Barack Obama is an amateur," he said, according to the book. "The economy's a mess, it's dead flat. America has lost its Triple-A rating."
The man who famously didn't inhale made the eyebrow-raising remarks to his wife, Secretary of State Hillary Clinton, in an effort last summer to convince her to challenge the sitting president in the 2012 elections.
Article continues below advertisement
"You know better than Obama does," Bill told Hillary, adding he thought the current president "doesn't know how to be president" and is "incompetent."
He tried to coax Hillary into a run, telling her, "The country needs you!" and that he wasn't necessarily "young enough" to help her for a 2016 run.
Hillary told him she's "the highest-ranking member in Obama's Cabinet," eats "breakfast with the guy every Thursday morning" and is loyal to the current president.