Move Over Al Roker! Watch Prince Charles Do The Weather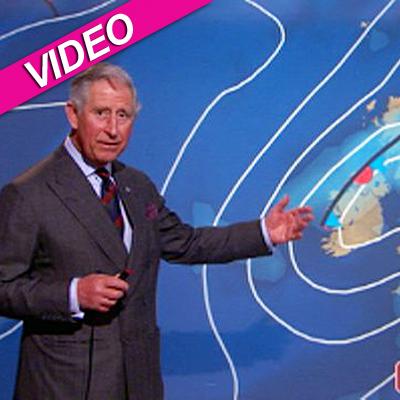 He's weathered many a storm during his reign as a Royal – but this?
In a very funny move, the usually stuffy-seeming Prince Charles stepped in and did the forecast for BBC's live lunchtime news Thursday after touring the TV studio in Glasgow, Scotland with his wife Camilla.
After reading the BBC Scotland news, anchor Sally Magnusson tossed over to the 63-year-old prince, who read a specially-scripted forecast that zeroed in on Royal residences.
Article continues below advertisement
Charles joked about drizzle over Balmoral before adding: "The best of the bright and dry weather will of course be in the northern isles and the far north of the mainland.
"So, a little hazy sunshine for the Castle of Mey in Caithness."
The prince then added: "But a cold day everywhere with temperatures of just 8°C and a brisk northerly wind. Thank God it isn't a Bank Holiday."
RELATED STORIES: