Clint Eastwood's Wife Opens The Door To Their Lives In New Reality Show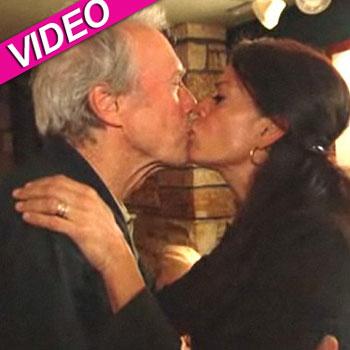 Article continues below advertisement
While it centers around the women in his world, the 81-year-old Dirty Harry star is set to appear in upcoming episodes and is even seen swapping a loving kiss with his former TV news anchor spouse. It's not the first time the loving couple has worked together, Dina has appeared in two of her husband's films, True Crime and Blood Work.
Other characters in the show found fame thanks to one of Eastwood's movies, after Dina discovered a six-man vocal group called Overtone in New Zealand during the filming of Invictus and moved the whole band up to their home in Carmel, Calif. to manage and mentor them.
Also included among the motley line up is Francesca's boyfriend and renowned photographer Tyler Shields, who is famous for his edgy photo shoots with Hollywood starlets such as Lindsay Lohan, Emma Roberts and Petra Ecclestone.
While viewers will no doubt be fascinated by the insight into the Million Dollar Baby director's luxurious lifestyle in Carmel-by-the-sea, some critics believe his diving into the realm of reality TV will taint his movie star credibility, while Forbes.com questions whether his seven other children by five different women will appear on the show.
We'll all find out when the premiere airs on E! on May 20 at 10 p.m.
In the meantime, catch a sneak peek of the show below: