Exclusive
Tyler Shields Defends Lindsay Lohan's State Of Mind: 'She's Doing Really Well'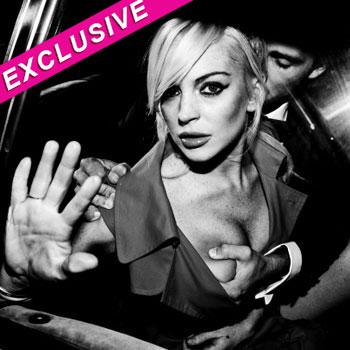 By Cliff Renfrew - Radar Staff Reporter
We're wondering just what Lindsay Lohan's court appointed shrink will make of this latest super sexy pose...
The controversial actress was captured by her friend, celebrity photographer Tyler Shields recently having her breast groped by her rumored new beau actor Spencer Falls while sitting in the back of a car wearing only a trench-coat.
When she appeared before Judge Stephanie Sautner in Los Angeles on Thursday the 25-year-old actress was dressed much more conservatively in a full length black dress.
Article continues below advertisement
The ticked-off judge gave Lohan 21 days to start one-on-one counseling as part of her probation while urging her to complete her required 480 hours of community service within the next 12 months too.
But Shields, who photographed Lohan and Falls in a downtown Los Angeles tunnel on July 12, 2011, has defended her state of mind.
Check Out Tyler Shields sultry new photographs of Lindsay Lohan and Spencer Falls.
He told RadarOnline.com: "Lindsay is in a great frame of mind just now - she is doing really well in fact.
"We have had a great reaction to our new photographs and the camera really loves her that is for sure.
"The theme was love and romance and how much it can hurt and obviously we were having a little fun with twisting that concept a little.
"Both Lindsay and Spencer were real troopers because we shot the images during the early hours of the morning so there would be no traffic.
Article continues below advertisement
"As soon as I had taken that photograph of her and him in the car I knew we had a really strong image - she looks fantastic!
"Lindsay really just wants to get on with her life and I'm sure she will do really well in the new movie about John Gotti - she cannot wait to get started."
Shields remained tight-lipped about the status of Lohan's relationship with handsome Falls who plays one half of the spoof couple Sparah in the Virgin Mobile commercials.