Lindsay Lohan Brings The Vice To Miami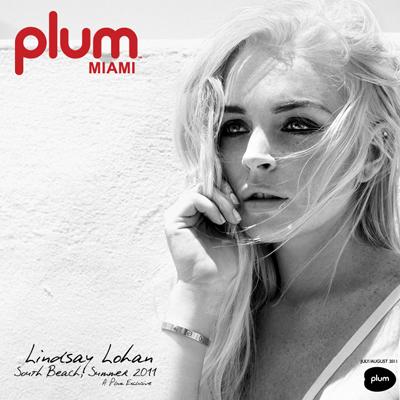 By Adam S. Levy - RadarOnline.com Staff Writer
Lindsay Lohan's lifestyle is brilliantly put to words by Plum Miami writer Jacquelynn D. Powers in an incisive new magazine story titled The Long Goodbye, detailing how the actress showed the author both sides of her personality, for better or for worse, on a recent trip to South Florida.
Powers tells the story of how she shadowed the Mean Girls star for a few days, with a photo shoot and last but not least, an interview scheduled at the end of the weekend trip, prior to Lindsay beginning her 35-day house arrest sentence earlier this summer.
Article continues below advertisement
With sharp, unflinching words, Powers described the juxtaposition that is LiLo -- ranging from a charming, generous, personable star-of-the-people, to an out-of-control Tinseltown snob constantly on the prowl for the next booze-drenched party.
Upon arriving at the Fort Lauderdale airport, Powers writes: "In the chauffeured Lincoln Navigator, it was all about puffing Parliament Lights and Miami chitchat with her entourage. Lindsay traveled with a revolving pack of pseudo-chaperones, whose most responsible member was her 17-year-old sister, Aliana."
In another sequence, Lindsay, en route to one of the city's top hot spots, shows off classic Hollywood arrogance despite being a long way from Sunset Boulevard.
"As we pulled up to the Fontainebleau, a bright-orange parking cone was blocking the entrance," Powers writes. "Not accustomed to waiting, apparently, she lowered the car's window and shouted, 'Move that cone. I'm Lindsay Lohan.'
"And it was done. This foreshadowed the arrogance and demanding personality she exhibited as her sweet-girl façade started slipping."
Article continues below advertisement
During another moment of observation, Powers noted that "Lindsay's aura -- while professional -- seemed almost melancholy. She was pretty and talented, albeit a little sad and weary. And constantly looking for drama, whether it was picking a fight with her younger sister ... or freaking out over a lost pair of Zanotti heels."
When she wasn't looking for drama, Powers wrote, she was out painting the town red.
"Saturday was another night at LIV, and all that implies. Sunday was an all-day party in the penthouse and on the beach. When I arrived at The Raleigh at 7 p.m. to conduct my interview, even her handlers were incoherent. Car services were sent and rebuffed.
"Even Aliana departed, but Lindsay wouldn't end the party ... it was like watching the lights come on at a nightclub after-hours -- not pretty."