Exclusive
District Attorney's Office At Odds With Judge Over Lindsay Lohan Dirty Alcohol Test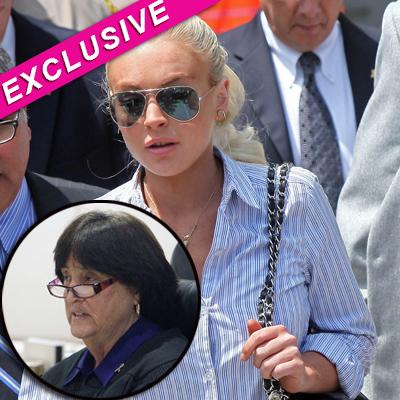 By Jen Heger - RadarOnline.com Legal Editor
Lindsay Lohan may be back home under house arrest at her rented posh townhome in Venice Beach, CA. Friday, but the controversy lingers over her dirty alcohol test -- the DA's Office is not happy the actress got off scot free in court Thursday.
As RadarOnline.com previously reported, Lohan, 25, dodged a major bullet in court when Los Angeles Judge Stephanie Sautner ruled that she believed the terms of probation set by Lohan's DUI judge had NOT been violated.
Article continues below advertisement
Judge Sautner determined that a previous judge in the case, Judge Eden Fox, did NOT indicate Lohan should be tested for alcohol in his order, only 'controlled substances'.
However, the District Attorney's office vehemently disagreed with Sautner's finding and urged her to call Judge Fox to clarify -- something Judge Sautner declined to do, a well-connected source tells RadarOnline.com exclusively.
"The head Deputy District Attorney in charge at the LAX Courthouse suggested that Judge Sautner simply call Judge Fox for clarification about what he wanted Lohan to be tested for, but Sautner simply refused, and said, 'I don't want to do that,'" the source claims.
"The District Attorney's office was very disappointed that Judge Sautner took that position."
The source also says that Judge Sautner was upset that media outlets had reported that Lindsay tested positive for alcohol and had been ordered back to court -- news that RadarOnline.com first broke.
"Judge Sautner didn't want to deal with a media circus, period," the source says.
"Judge Sautner stated in open court that she went through Lindsay's criminal file, which is very extensive, in chambers."
MORE ON:
Celebrity Justice
Article continues below advertisement
Deputy District Attorney Danette Meyers who has handled Lindsay's DUI and theft charges since 2007, has formally been taken off the case by the D.A.'s office.
"I will no longer be making further appearances on the case. I wasn't told why I was taken off," Meyers tells RadarOnline.com exclusively.
Meanwhile, Meyers says she believes that Judge Fox DID want Lohan tested for alcohol, along with drugs.