Exclusive
Lindsay Lohan Dodges Bullet In Court -- Found NOT To Be In Violation Of Probation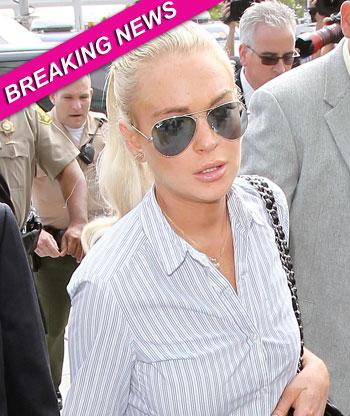 By Jen Heger - RadarOnline.com Legal Editor
Lindsay Lohan dodged a bullet in court – yet again – Thursday, after Judge Stephenie Sautner ruled that the embattled actress was NOT in violation of her parole.
"I called the lawyers here today, to determine whether there was a need for a hearing," Judge Sautner said, before ruling there was not.
As RadarOnline.com was first to report Lindsay tested positive for alcohol on June 12 or 13, and was ordered to court to determine if this was a violation of the terms of her probation.
Article continues below advertisement
The judge ruled that her understanding of Lindsay's probation terms, that had been put in effect by Judge Eden Fox, called for testing of controlled substances only and not for alcohol, and that the testing stipulation expired in February.
Judge Sautner said that Judge Fox, who presided over Lindsay's DUI case, gave an order on October 22, 2010 for Lindsay to undergo control substance testing from January 3, 2011 until February 25, 2011 – and that Judge Fox's intent was to test for controlled substances only.
However, the DA's office strongly refuted Judge Sautner's findings and have requested a review of Judge Fox's ruling from October.
"What you are guilty of is of poor judgment to have parties on your roof," Judge Sautner Told Lohan. "You are not to have parties, you can have one friend over at a time, plus family members or business associates. You can go on your roof, if probation calls you, you must answer. There is no drug or alcohol testing in effect."
Article continues below advertisement
The DA asked Judge Sautner to modify the terms of Lohan's probation to include testing for drugs and alcohol, but Judge Sautner refused.
According to Lindsay's probation report, the Mean Girls actress failed an alcohol test on June 13, just one day after she held a rooftop party at her Venice home.
On May 31 and June 2 Lindsay refused two drug tests, but passed one on June 9 — leading her probation officer to suggest Lindsay spend "suitable time in custody."
"The defendant's behavior indicates she is not attempting to change," her probation officer wrote in the report.
"It appears that the defendant does not view being on the electronic monitoring system as a privilege."
Lindsay's next court appearance is going to a progress report at the end of July.
The judge ordered no television cameras within the court room as well as barring any text messaging or emails during the hearing. The bulk of the proceedings occurred behind closed doors in Judge's chambers.
Article continues below advertisement
A terse Judge Sautner addressed the media within the courtroom at the beginning of the hearing: "This was meant to be a little private conference with the attorneys...if you all thought there was going to be something exciting happening, I wouldn't count on it," she said – going on to ask: "Is nothing private anymore?"
Just minutes after her hearing win, Lohan took to her Twitter account to thank her fans.
"Thank you to all of my fans for your support. Sending you Love and Light. xo" Lindsay wrote.
Lindsay's powerhouse attorney, Shawn Holley, released a statement later in the day asserting her client had done nothing wrong and claiming it was the Probation Department that were at fault: "Today the Court made clear that Lindsay is in compliance with the terms of her probation, the terms of her electronic monitoring and the laws, rules and regulations of the State of California," she said.