The Crocodile Hunter's Little Girl, Bindi Irwin Is All Grown Up!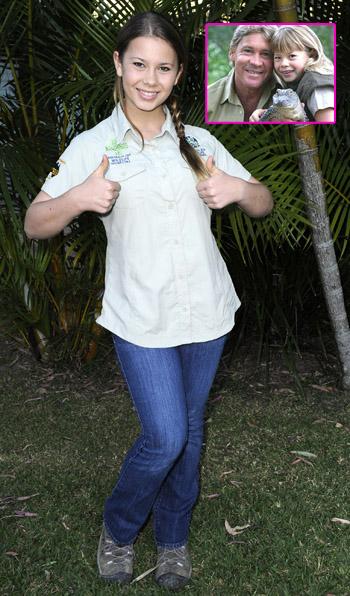 Steve Irwin's daughter, Bindi, isn't a little girl anymore.
The Crocodile Hunter's 13-year-old showed off her grown up look as she posed with her mom, Terri and brother Robert at the Australia Zoo, and RadarOnline.com has a photo of her startling transformation.
The teenager - who still bares a striking resemblance to her late dad - was attending a charity event with her family when she posed for photos.
Article continues below advertisement
Terri has previously spoken about how hard it is to see Bindi grow up so fast.
"The little girl-to-young lady thing happens so quickly," she said. "We hit these milestones and I think, 'Gee I wish Steve was here for it' and then I think he kind of is.
"We are being watched over. That's special too."
The eccentric environmentalist died in 2006 when his heart was pierced by the serrated poisonous spine of a stingray as he swam with the creature while filming his TV show.