PHOTOS: Bizarre Celebrity Deaths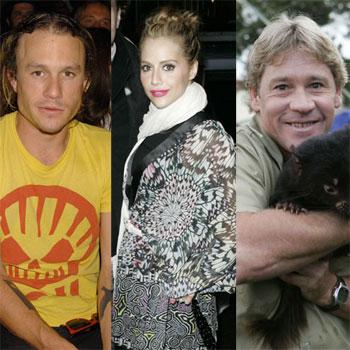 As Michael Jackson's doctor is questioned in court over the untimely death of the King of Pop, RadarOnline.com looks into other celebrities who have died in bizarre circumstances.
From musical legends, like Marvin Gaye who was shot by his own father, to actors like Heath Ledger and John Belushi, who both took fatal overdoses, Hollywood has been plagued by stars who have died under unusual circumstances.
Article continues below advertisement
When INXS singer Michael Hutchinson was found dead at the age of 37 in hotel in Sydney, Australia, the circumstances shocked the world.
While authorities originally believed he had died of a suicide they soon made the grave discovery that he had botched an attempt at auto-erotic asphyxiation.
Twelve-years later David Carradine was found in a similar situation, naked and hanging in the closet of his Bangkok hotel with a rope around his neck, wrists and genetalia.
His death was ruled 'accidental asphyxiation'.
For a time it seemed there was a curse on young female R&B stars.
Aaliyah died in 2001 at just 22-years-old when her plane crashed in the Bahamas and TLC's Lisa 'Left Eye' Lopez lost her life in a tragic car crash one year later.
But perhaps the strangest cause of death was Crocodile Hunter Steve Irwin, who was was killed after a sting ray spine pierced his chest while he was snorkeling in the Great Barrier Reef.