Michael Vick Scores 6-Year, $100M Deal With Philadelphia Eagles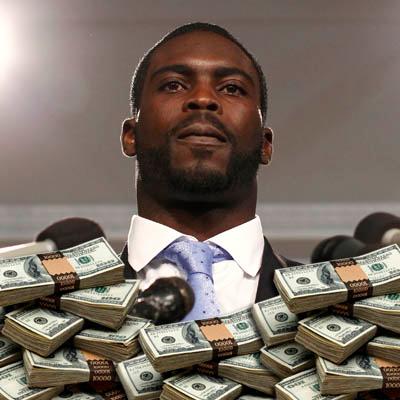 Michael Vick -- one of the most controversial figures in the NFL -- has just scored a major six-year deal with the Philadelphia Eagles worth $100 million with $40 million guaranteed.
The deal will average $16 million in each of the first three years and makes Vick one of the highest paid players in the NFL.
"I'm very happy we were able to reach an agreement with Michael on this long-term contract," Eagles coach Andy Reid said. "It's a product of all the hard work Michael has done to better himself over the last couple of years, both on and off the field."
Article continues below advertisement
Jay Cutler Officially Single, Defends Kristin Cavallari
The contract marks a staggering comeback for the 31-year-old Virginia native.
Vick -- the No. 1 overall pick in the 2001 draft – was once a superstar with the Atlanta Falcons. He signed a $130-million, 10-year deal in 2005 that made him the top-paid player in the league then. He lost it all when he went to federal prison in August, 2007 for illegal dogfighting and he eventually filed for bankruptcy.
Vick joined the Eagles in 2009, and played sparingly as the third-string QB behind Donovan McNabb and Kevin Kolb before forcing his way into the starting role with his exceptional performances after Kolb was injured in the season opener.
Bikini-Clad Kristin Cavallari Puts The Fantasy In Football
He led the Eagles to the NFC East title last season, was the starting quarterback in the Pro Bowl and was the AP comeback player of the year.