Exclusive
Christopher Schwarzenegger Planning To Hang With USC Football Team – When Mom Lets Him!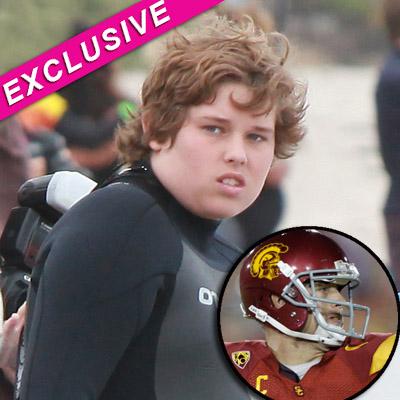 By Jen Heger - RadarOnline.com Legal Editor
Maria Shriver and Arnold Schwarzenegger's 13-year-old son, Christopher, who was recently released from the UCLA Medical Center after suffering a surfing accident in Malibu, is well on the mend and planning to hang with members of the USC football team -- when mom lets him that is -- RadarOnline.com is exclusively reporting.
Christopher's older siblings, Katherine, who will be a senior at USC this fall, and Patrick, a senior in high school, are very good friends with USC football quarterback phenom Matt Barkley and have pulled some strings to arrange the sporting treat for their beloved little bro.
Article continues below advertisement
"Christopher is doing very well, given everything he went through. He is teasing his mom for hovering so much, but Maria isn't relenting," a source close to the situation tells RadarOnline.com. "His siblings are doting on him, he is the baby of the family.
"Patrick has promised to take him to hang out with Matt Barkley, and the linemen of the USC football team. Christopher wants to get out of the house on his own and go; however, Maria isn't allowing it, yet."
Meanwhile, even when mom does relent and allow Christopher out of her sight, he won't be allowed to attend a USC football practice because of new restrictions the school implemented in the wake of being put on probation by the NCAA.
"USC football practices are closed, and they have been since Lane Kiffin became head coach after Pete Carroll left," the source says. "Kiffin thought that too many celebrities were coming to the practices, and becoming a distraction to the team.