Christopher Schwarzenegger Out Of The Hospital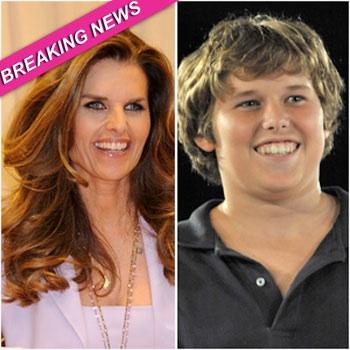 - RadarOnline.com Senior Reporter
Maria Shriver expressed relief that her youngest son Christopher was released from the hospital Monday night, following a surfing accident that resulted in a collapsed lung, broken ribs and broken bones.
"Blessed to be able to take Christopher out of the hospital last night. What a feeling of relief to know that he's going to be fine," Maria wrote on Twitter Tuesday. She and Arnold Schwarzenegger have been by their son's side, and Maria even spent each night at the hospital with Christopher.
Article continues below advertisement
"Thank you for all your thoughts and prayers. The whole family, especially Christopher, felt your love," Maria tweeted. She also thanked the "amazing doctors, nurses and hospital staff in the ICU who helped my son."
Christopher has been in the hospital for over a week since his accident in Malibu.
His dad also Tweeted about his release. "I knew Christopher couldn't be stopped! Big thanks to all the doctors, nurses & staff at UCLA that helped him recover," Arnold wrote.
Maria also expressed hope for other patients in the hospital. "We were very lucky. Many patients and families we met have been there so long and have no end in sight. I pray for their recovery."
Despite spending time together in the hospital with their son, Arnold and Maria are going forward with their plans to divorce.
RELATED STORIES:
Maria Shriver 911 Call For Son 'He Can't Move, He's Having Trouble Breathing'