Maria Shriver 911 Call For Son 'He Can't Move, He's Having Trouble Breathing'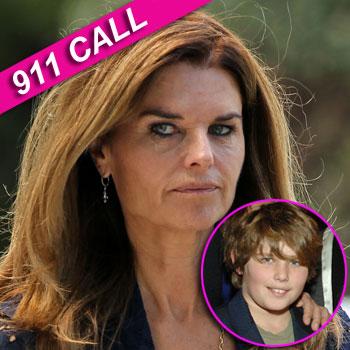 - RadarOnline.com Senior Reporter
Maria Shriver's maternal instincts kicked into high gear after her youngest son Christopher was injured in a boogie boarding accident and RadarOnline.com has the audio of her 911 phone call for help.
Sounding calm but concerned Shriver told the operator that the situation was "like a boogie board accident," and that he "can't move off the beach," and described his condition as "maybe like a broken rib or something like that."
Article continues below advertisement
Shriver told the operator it was her 13-year-old son who was injured and described his fragile condition. "He's awake and breathing. He can't move, he's having trouble breathing."
The surfing accident happened last weekend and Christopher has been in the hospital since being treated for a collapsed lung and broken bones. He was visited by his dad Arnold Schwarzenegger and his sister Christina Friday afternoon and Maria has been by his side the accident in Malibu.
The 13-year-old's siblings took to their Twitter accounts to thank followers for their well wishes and assure everyone their little bro is on the road to recovery.
"Thank you guys for ur concern and prayers for my baby brother! He's a tough little guy and getting better!" Katherine wrote. "Please keep praying for him! Xo"
"Thank you everyone for your messages about my brother," Patrick tweeted. "This kid is strongest kid I ever seen. Keep praying."