Arnold & The Maid: It Wasn't A One-Time Thing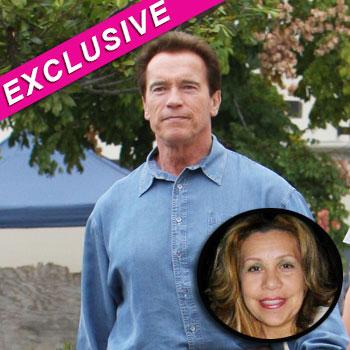 Arnold Schwarzenegger's sexual relationship with his longtime housekeeper wasn't just a one-time fling.
The Governator and Mildred 'Patty' Baena maintained an ongoing sexual relationship, RadarOnline.com has learned in a blockbuster joint investigation with Star magazine.
RadarOnline.com and Star were first to reveal Baena's identity, with details that conflict the muscleman's official version of how the love child scandal was dragged into the light after 14 years.
Article continues below advertisement
"Arnold and the housekeeper had a sexual relationship that stretched over years," a source close to the woman told RadarOnline.com.
"This wasn't a case of Arnold being unfaithful just once. Far from it.
"This was a sexual relationship that played out right in front of Maria and in her own house for years."
Maria Shriver, 55, was close to Baena at times, even while the housekeeper, 50, was bedding Schwarzenegger,63.
Schwarzenegger has said little about the details of the affair other than he told Shriver about his illegitimate son, now 13, after his run as California's highest elected official ended.
But Star and RadarOnline.com learned that he's hiding years of cheating in his own house and now Baena has gone into hiding after "retiring" from her
housekeeper position.
As for Baena, our sources tell us that she endured a period of anger at Schwarzenegger when her employment was over, but is still smitten withher Baby Daddy.