Meet The 'Trollsen Twins!' Mary-Kate And Ashley Olsen Slammed For Fur Backpack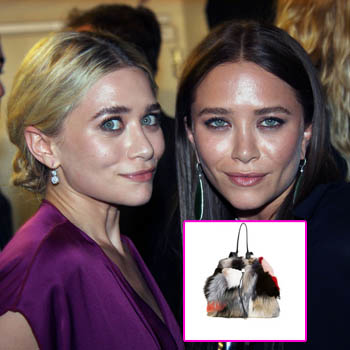 Article continues below advertisement
PETA is so disgusted by the excessive animal slaughter that went into the designer bag that they have given the twins a unique new nickname and dedicated a whole website to slamming them.
"If it looks like a troll and acts like a troll, it's probably a Trollsen Twin - or someone wearing one of their new $16,000 totes, which are made from the fur and skins of innocent animals," revealed an e-mail statement to RadarOnline.com from the People For The Ethical Treatment Of Animals.
"What the Olsens lack in creativity, they try to make up for in shock value. Sadly, it's the foxes, calves, and alligators -- who often have the fur ripped off them while they are still conscious and able to feel pain -- who pay the dearest price."
At the PETA-created site Meet The Trollsen Twins, animal lovers can play a fun game dressing up the former child stars in a vast array of bloodied fur products such as Butchered Beaver Boots, Skinned Alive Snake Shoes, a Choked Chinchilla Hat and even a Dead Doggie Shoulder Bag.
Article continues below advertisement
PETA Slams Kim Kardashian's Python Boots, 'They'd Go Well With A Dalmation-Fur Coat'
Fur-Lovers Kim Kardashian And Kanye West Are PETA's Most Hated Couple
Actress Ali MacGraw Appeals To Senator To Keep Horses Out Of Dog Food Cans