Exclusive
Don't Believe The Gossip! Evelyn Lozada And Chad Ochocinco Will Not Be Having An Open Marriage!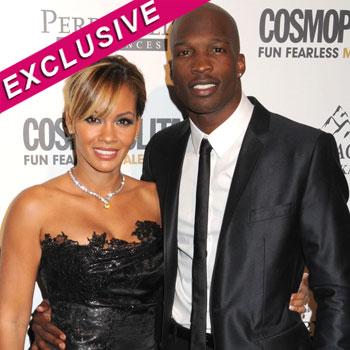 Article continues below advertisement
"This was a real conversation and people got offended saying, 'Oh, you said it was OK to cheat.' That is not what I was saying at all! People took what they wanted out of that conversation, others said it was great that we can be so honest.
"I didn't say it was OK to cheat. What I meant was I am not going into this marriage saying we're going to be perfect, things are going to happen. I am just being honest and realistic about what our world brings," explained the bride-to-be. "I would never be in an open relationship, absolutely not."
Lozada went on to explain how a two hour conversation with her New England Patriots playing fiancé got edited down to three minutes on the VH1 reality show.
"I am not going into this saying it will definitely be forever. Life changes, things happen, I don't know if Chad is going to feel the same way about me in 20 years time or how I will feel.
"All I do know right now is that we are focused on getting married, having a good life together and raising our children. But things happen and that was the point of that conversation," the 36-year-old reality star revealed.
Article continues below advertisement
As RadarOnline.com previously reported, one thing Evelyn is certain about is that there won't be any large animals appearing in the wedding party on her big day.
"He wanted to have animals at my wedding, and I didn't agree with that vision, and that's something that he is not letting up on and now we are dealing with and I am now trying to find ways to compromise. I want to make him happy and make him feel like he is included in our big day," she told RadarOnline.com.
"Maybe it's a llama or something small, but no lions or elephants. I feel bad for them! I have been to a few events where they have had animals caged up and it bothers me."
Along with airing some of their relationship angst on Basketball Wives, all of the wedding drama will be caught on tape for the couple's upcoming eight-episode series, tentatively titled Ev & Ocho, which will air on VH1 in September.