Exclusive
Evelyn Lozada Battles Chad Ochocinco Over Wedding Plans: 'No Lions Or Elephants!'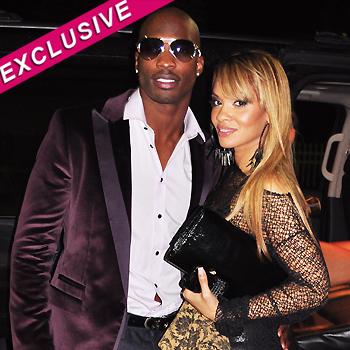 When you're getting ready to walk down the aisle with one of the craziest players in the NFL, you should expect the unexpected, and RadarOnline.com can exclusively reveal that Basketball Wives star Evelyn Lozada is very used to reigning in fiancé Chad Ochocinco's wacky ideas.
"He has certain requests that I don't necessarily agree with. Chad thinks outside of the box a lot of the time," she told RadarOnline.com in an exclusive interview.
Article continues below advertisement
"Sometimes thinking outside the box is not something I necessarily agree with. Instead I think, 'Really, you want that???'" she laughed.
One of the New England Patriots star's most outlandish obsessions is to include exotic wildlife in the bridal party for their upcoming July nuptials.
"He wanted to have animals at my wedding, and I didn't agree with that vision, and that's something that he is not letting up on and now we are dealing with and I am now trying to find ways to compromise. I want to make him happy and make him feel like he is included in our big day," said his tormented bride-to-be.
"Maybe it's a llama or something small, but no lions or elephants. I feel bad for them! I have been to a few events where they have had animals caged up and it bothers me."
One very memorable animal encounter occurred last month when the couple was at charity event in Miami, Florida. "They had a lion in a cage and Chad decided to get close to take a picture to tweet it," Evelyn, 36, explained.
"Out of nowhere the lion decided to pee on Chad, right on his Dolce & Gabbana jacket and it sprayed urine on his face! I laughed for two days afterwards about. I called him Simba from The Lion King, I had so many jokes," she revealed.
Article continues below advertisement
As for the 6'1" wide receiver and his new large cat pal, "I think he thought they bonded afterwards," said Evelyn.
Lozada went on to reveal that its not all fun, games and animal antics when it comes to planning a summer wedding and she is finding the whole thing a lot of work.
"It's been crazy! There's a lot of pressure, I had a venue and there were issues with that, we started off late with it all," she revealed. "I am under a lot of pressure, filming my own project, working on my career and my branding.
"I am trying to balance everything, some days are better than other. There is a lot going on but I am not complaining!"
Along with airing some of their relationship angst on Basketball Wives, all of the wedding drama will be caught on tape for the couple's upcoming eight-episode series, tentatively titled Ev & Ocho, which will air on VH1 in September.
"People only get to see one side of me on Basketball Wives, but on this show you get to see the human side of me and my family, not just arguing every episode," she told RadarOnline.com.