Exclusive
Kim Kardashian's Flour Bomber 'Shouldn't Get Away With It,' Says Evelyn Lozada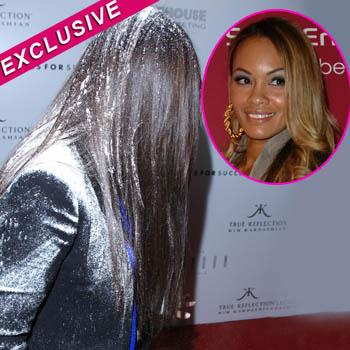 Article continues below advertisement
"I commend her for handling the incident with grace and dignity, Kim's actions showed that she is a true professional."
As RadarOnline.com previously reported, Kim was smashed with a flour bomb on the red carpet at The London West Hollywood last Thursday, an upscale hotel where she was promoting her new perfume True Reflection, and she is now considering taking legal action against her attacker.
Evelyn is famous for standing her ground against her reality rivals on Basketball Wives, and she's encouraging the Keeping Up with the Kardashians star to do the same!
"The woman shouldn't get away with trying to ruin Kim's charity and perfume event," pledged Evelyn. "I am really proud of the way Kim handled the situation."
Meanwhile, Khloe Kardashian offered her 100 percent support to her big sister too by cutting ties with PETA after it emerged that the woman who attacked Kim is an activist for the animal rights group.
"I just received word that the woman responsible has very close ties to PETA, despite PETA publicly stating otherwise," Khloe, who modeled in the nude for PETA's I'd Rather Go Naked Than Wear Fur campaign, wrote on her blog on Monday as she voiced her disgust for the People For The Ethical Treatment Of Animals.
Article continues below advertisement
"Not only has PETA lied to the public, but they have proved that they support this kind of behavior. I've been a vocal supporter of PETA for a long time but I have also been very vocal about anti-bullying, so this was a huge disappointment for me. As you all know, I don't condone violence and bullying and what happened last Thursday was just that."
RELATED STORIES:
PETA Wishes Khloe Kardashian 'Had More Influence' On Sister Kim