PETA Wishes Khloe Kardashian 'Had More Influence' On Sister Kim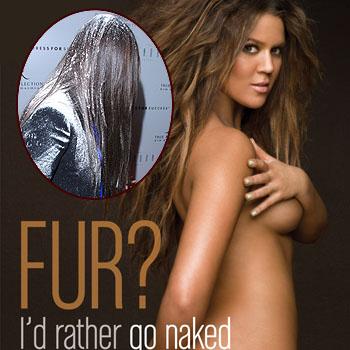 A day after Khloé Kardashian quit PETA for their perceived slight against her sister Kim, the organization did not take a step back after offering to pay for the legal defense of the woman -- reportedly linked to the organization -- who "flour-bombed" Kim in the lobby of The London West Hollywood during a perfume promotion last Thursday.
In a statement Tuesday, PETA said: "We appreciate that Khloé will remain on the animals' side by not wearing fur – that's what counts.
Article continues below advertisement
"If one of our volunteers is responsible, it doesn't alter the fact that no animal deserves to be electrocuted, shot, or poisoned for a bit of fur clothing. Khloé is just defending her sister, and we know she has a good heart, so we wish her well," the group said. "We just wish she also had more influence on her sister."
On Monday, Khloé -- who once modeled nude for the aggressive animal rights organization's I'd Rather Go Naked Than Wear Fur campaign -- stepped down from the organization, after they offered to pay for lawyers to defend the woman who flour-bombed Kim.
Khloe said in response, "I've been a vocal supporter of PETA for a long time but I have also been very vocal about anti-bullying, so this was a huge disappointment for me. As you all know, I don't condone violence and bullying and what happened last Thursday was just that."
"I just received word that the woman responsible has very close ties to PETA, despite PETA publicly stating otherwise," Khloé wrote on her blog. "Not only has PETA lied to the public, but they have proved that they support this kind of behavior."