Who Is The Woman Who 'Flour Bombed' Kim Kardashian?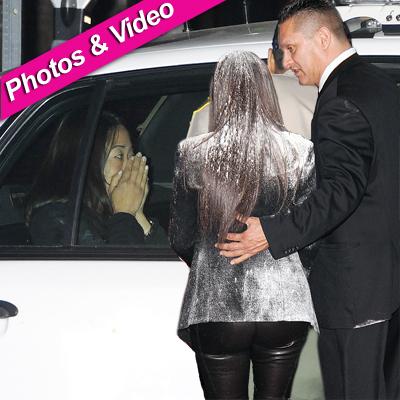 So just who is this mystery woman that dared to "flour-bomb" Kim Kardashian on the red carpet Thursday night?
While police are not releasing her name, RadarOnline.com has photos of her sitting in the backseat of a squad car after the bizarre incident.
As we previously reported, police said the woman dumped a bag of flour on Kim's head in the lobby of the The London West Hollywood, the swanky hotel that hosted the event where Kim promoted her new perfume, True Reflection.
Article continues below advertisement
Kim -- who told E! the flour bombing was "the craziest, unexpected, weird thing that ever happened to me" -- did not press charges or get checked out by paramedics following the odd happening, according to police.
Watch the video on RadarOnline.com
One person the mystery woman would not want to run into today is Kim's sister Khloe, who tweeted her outrage regarding the incident late Thursday.
"I wish I was with my sister tonight," Khloe wrote. "I bet you that woman wouldn't have dared tried a thing."
Aside from socially-motivated paint-on-fur attacks, Kim is not the first famous face to suffer a bizarre, public assault. Legendary newsman Dan Rather was famously pummeled in Manhattan in 1986 by a mugger who repeated the unanswerable question, "Kenneth, what is the frequency?"
The incident later served as the inspiration for an R.E.M. song.