Kim Kardashian Opens Up About Split, But Won't Mention Kris Humphries' Name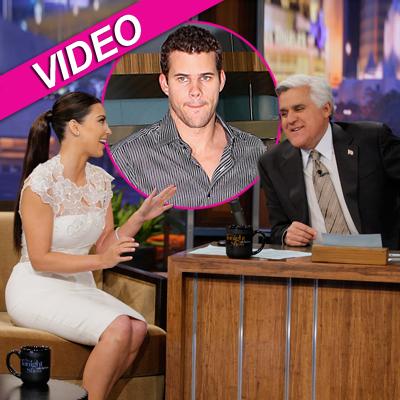 Kim Kardashian's marriage to NBA power forward Kris Humphries crashed and burned after a mere 72 days, but reality TV's biggest star told Jay Leno Wednesday that at the time, she took the words "till death do us part" at face value.
"I'm a girl who really believes in love, I'm in love with love and I thought this was it for me," she told Leno, curiously never referring to Humphries by name, only as "someone else."
Article continues below advertisement
The 31-year-old mogul said when she "realized the marriage wasn't what I thought," she "tried to really respectful of everyone involved."
"I wanted to be fair to me, but I also wanted to be fair to someone else," Kim said, adding "when I knew it wasn't right" she realized a split would be better sooner than later.
"I've heard stories of people who were married for 10 years and they knew it wasn't right, but they wanted to stick it out and had kids," she said. "I want that forever, I believed in love, I still do. But to be fair to everyone, I knew I had to end it and I'm OK with that decision."
Kim said that while her family warned her only fools rush in -- particularly sister Khloe -- she said she's the type that prefers to live and learn.
"I'm a person, when I'm in love, you can't tell me anything and you gotta go through it yourself," Kim said. "So, I did what I believed in doing, and sometimes you don't want to hear what your family has to say. You look back and you're like, 'OK, that was a sign,' or, you know, 'Maybe I should have listened to them.' But, I wouldn't have been who I am today had I not gone through that."
Article continues below advertisement
Kim said that while the painful breakup was exacerbated by the onslaught of publicity, it's par for the course of being in the public eye.
"I pride myself on being an open book," Kim said. "This is what we do. It was really tough to go through and I didn't know the media would be so brutal about it, but I learned so many lessons and its changed me as a person for the better."
Fun fact: When the split was initially announced, Leno joked in his monologue, Kim "said she'll put him behind her, which is ironically what got them together in the first place!"
Watch the video on RadarOnline.com
As we previously reported, Kardashian and Humphries tied the knot August 20, 2011 in a lavish wedding with stars like Seacrest and Lindsay Lohan among the 400 in attendance. The TV special chronicling the nuptials, E!'s Kim's Fairytale Wedding: A Kardashian Event, aired in October to huge ratings, averaging 4.4 and 2.7 million viewers, respectively, on consecutive nights. Kim filed for divorce October 31 after 72 days.