Khloe Kardashian Pulls Support For 'Lying Bullies' PETA After Kim Is Flour Bombed By Activist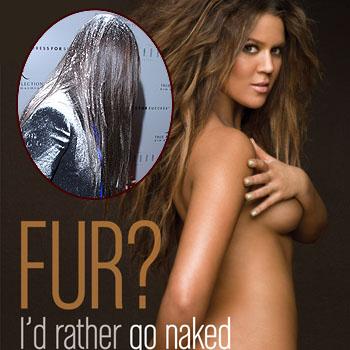 By Debbie Emery - RadarOnline.com Reporter
Khloe Kardashian proved that blood is thicker than water - or fur – as she withdrew her support for PETA Monday in the wake of sister Kim's flour bomb attack in Los Angeles last week.
"I just received word that the woman responsible has very close ties to PETA, despite PETA publicly stating otherwise," Khloe wrote on her blog on Monday as she voiced her disgust for the People For The Ethical Treatment Of Animals.
Article continues below advertisement
"Not only has PETA lied to the public, but they have proved that they support this kind of behavior. I've been a vocal supporter of PETA for a long time but I have also been very vocal about anti-bullying, so this was a huge disappointment for me. As you all know, I don't condone violence and bullying and what happened last Thursday was just that."
As RadarOnline.com previously reported, Kim was smashed with a flour bomb on the red carpet at The London West Hollywood, an upscale hotel where she was promoting her new perfume True Reflection, and is now considering taking legal action against her attacker.
"I am just going to think about it, because I don't want someone to think they can really get away with that. So we are going to handle that," she told E! News.
While the Keeping Up With The Kardashians star weighs her options, her little sis – who modeled in the nude for PETA's I'd Rather Go Naked Than Wear Fur campaign - is very vocal about her reaction.
"I am absolutely disgusted by PETA's behavior. Everyone is entitled to their own beliefs and opinions — I personally don't wear fur but that doesn't mean I am going to force my views on anyone else, ESPECIALLY by violating them," wrote Khloe.
Article continues below advertisement
"I am a very proud sister right now, because Kim handled last week's incident like a champ. She got cleaned up and was back out there in a matter of minutes. Go Kimmie!"
On the other side of the battle lines, PETA sent a polite response to RadarOnline.com in a written statement, saying they still support Khloe despite her angry rebuttal.
"We appreciate that Khloe will remain on the animals' side by not wearing fur - that's what counts. If one of our volunteers is responsible, it doesn't alter the fact that no animal deserves to be electrocuted, shot, or poisoned for a bit of fur clothing," read the statement.
"Khloe is just defending her sister, and we know she has a good heart, so we wish her well. We just wish she also had more influence on her sister.
"PETA has tried everything from polite letters to public protests, but Kim Kardashian has not been moved by the news that animals are beaten, electrocuted, and even skinned alive for real fur garments.
"Whoever threw that flour may reach her when our polite appeals did not."
Article continues below advertisement
There's been little love lost between the animal rights group and Kim over recent months, especially after a giant billboard was erected last December at the intersection of Beverly Boulevard and Sweetzer Avenue in West Hollywood, which featured a photo of the fur-clad Kardashian next to a shot of baby foxes, reading:
"Kim: These Babies Miss Their Mother. Is She On Your Back?"
RELATED STORIES:
Kim Kardashian Wedding Guest Ordered To Pay Back $7.5M For Embezzling