Kim Kardashian Is Slammed By PETA In Giant Billboard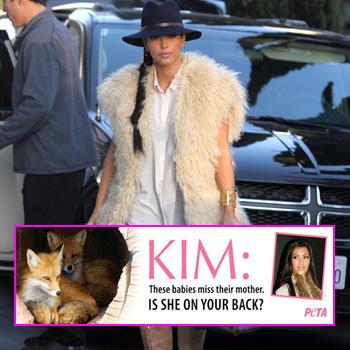 Who says there's no such thing as bad publicity?
Kim Kardashian is no stranger to being on billboards but animal rights group, PETA's latest ad will no doubt strike a bum note with the larger-than-life star.
PETA (People for the Ethical Treatment of Animals) is upset with the fur-loving star and wants to make sure that everyone to knows it – and what better way than a giant billboard towering over one of Hollywood's busiest intersections?
Article continues below advertisement
The billboard, will be erected in early December at the intersection of Beverly Boulevard and Sweetzer Avenue in West Hollywood, features a photo of fur-clad Kardashian next to a shot of baby foxes, reading:
"Kim: These Babies Miss Their Mother. Is She On Your Back?"
PETA said they have contacted the soon-to-be divorced socialite about the notorious cruelty of the fur industry to no avail, and even sent her a video showing shocking images of animals kept in tiny cages and killed in horrific ways.
"Kim knows that animals on fur farms are beaten, electrocuted, and often skinned alive. We've explained it to her, and she's watched a video exposé that was filmed inside fur farms," PETA Senior Vice President Lisa Lange said in a statement sent to RadarOnline.com.
"When Kim is ready to put an end to her relationship with fur, PETA will be happy to take her discards and donate them to the homeless."
Article continues below advertisement
The animal-loving organisation isn't against all of the Kardashian family, however, as Kim's sister Khloe posed naked for a PETA anti-fur ad and showed fur-farm video footage on Keeping Up With the Kardashians.
PETA are hoping that the embarrassment will be enough to persuade Kim, who they named 'Worst-Dressed Celebrity' last year, to end her cruel animal habits, or at least fake it.
Kim has made no attempt to hide her love of fur, as RadarOnline.com reported, last month she donned a fur stole to channel fashion icon Elizabeth Taylor.