Rob Kardashian Reveals, 'Our Family Has Never Broken Apart'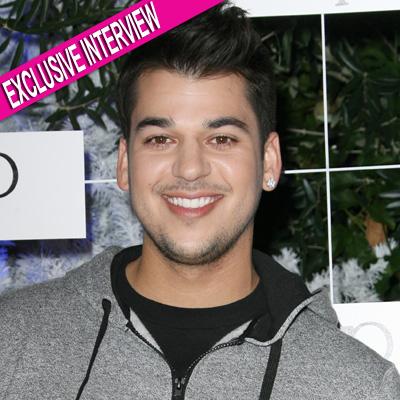 Even with big sister Kim Kardashian's sudden divorce announcement stealing the spotlight from his Dancing With The Stars success, Rob Kardashian revealed that his family is sticking together in tough times.
In fact, the past month has brought them even closer than ever. "Our family has never broken apart, we've been close from day one," Rob told RadarOnline.com at the OP 'Hosts Winter Wonderland' event in Hollywood on Wednesday night.
Article continues below advertisement
"That's probably the one thing I respect about my entire family and that's how we were raised to be. There's nothing more important than family.
"Literally my fun time is if we go to a club, we go together as a family," added the quick-footed reality star.
As RadarOnline.com previously reported, Kim filed from divorce from Kris Humphries on October 31, the same day that Rob got his highest score on DWTS, and the real-life drama meant that barely any of his family was present for what was his best night on the show.
Despite the media frenzy over his sister's short-lived marriage, Rob said his siblings are still cheering him on.
"Khloe loves it, they all can't believe what I'm doing -- just to see the younger brother do something that they definitely couldn't do and that it is just super out of my element, they just love that," he told RadarOnline.com.
"It makes my life super easy having my family at every one of my shows supporting me, and I kind of loosen up and not be so nervous and tense."
Article continues below advertisement
Kim put on her dancing shoes with little success on the seventh season of the show (she partnered with Mark Ballas but was the third to be voted off), and Rob doesn't think Khloe or Kourtney would do any better.
"No, they don't (dance), not yet. They all dance but in their goofy way," he explained.
When asked why he's doing so well, Rob has no clue!
"I honestly didn't even know to what to expect but I'm here and I'm super happy and as the weeks have gone by I've realized that I can do it if I really, really put my mind to it," pledged the 24-year-old.
"It's the toughest thing for anybody who just steps on that dance floor but I'm doing it and I'm doing it just fine."
With just J.R. Martinez and Ricki Lake standing in his way of winning the coveted disco ball trophy, Rob revealed that he still isn't getting too competitive with his rivals.
"I don't ever compare myself to anybody," he said. "I just worry about my own dance and I take it one dance at a time and that's all I care about.
Article continues below advertisement
"I'm friends with them all and I don't have that competitive side with them specifically."
The secret to Rob's success? Just kicking back and having a good time.
"Just having fun, I don't take anything seriously in life at all so from day one I said I would have fun with it. People get so nervous about these dances and are freaking out about it afterwards, it's just not worth it for me," Kardashian explained.