Ricki Lake Smashing, Hope & Maks Seething, As DWTS Semifinals Kick Off!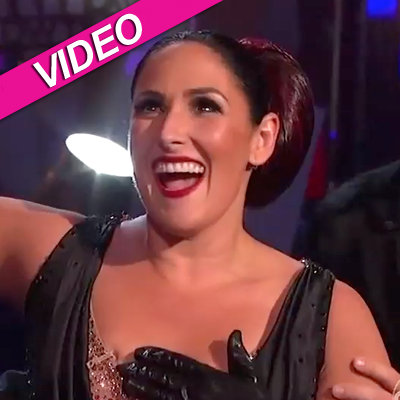 Radar Staff Writer
Ricki Lake was the high scorer on Monday night's edition of Dancing With The Stars, racking up 67 of 70 possible points with a sensational samba and terrific tango as the show's semifinals week kicked off.
In a scoring twist on Monday's episode, each of the four remaining celebs performed two individual numbers for 30 points apiece, as well as a group cha-cha relay for an additional 10 points.
Article continues below advertisement
The Hairspray beauty nailed down a perfect 30 out of 30 for her samba; 29 out of 30 for her Argentine tango; and eight points for her part in the group dance.
"Ricki, I don't think you know how good that was," judge Len Goodman told her after the number.
Elsewhere, Rob Kardashian took second place with 65 out of 70 points; J.R. Martinez, suffering an ankle injury, scored 56 of 70 points; and Hope Solo -- herself suffering from severe shoulder pain -- finished dead last with 45 of 70 points.
Solo and pro partner Maksim Chmerkovskiy -- whose run-ins with the judges this year have been well-documented -- didn't seem to see eye-to-eye with judge Carrie Anne Inaba, who cited Solo's lack of grace in her tango while picking up on Maksim smirking through her review.
"I think from day one they've wanted me off the show," Solo groused, "but I'm here in the final four and I'm hoping to get in the finals."
Article continues below advertisement
After the show, Maksim let loose on what he and his partner have felt has been a decided bias against them from the judges' table -- particularly Inaba's side of it.
Asked about the smirking exchange following the taping, Maksim told reporters, "F--- Carrie Ann, next question.
"I think Carrie Ann has an issue; I don't know what it is, but I would love to know, so we can address it. As of now, I have no clue what the hell she was talking about."
We'll find out who's going home when Dancing with the Stars 13th season continues on ABC Tuesday at 9/8c.