Exclusive
Basketball Wives' Evelyn Lozada Spills Secrets Of Catfights, Cast Rifts And Her Latest Enemy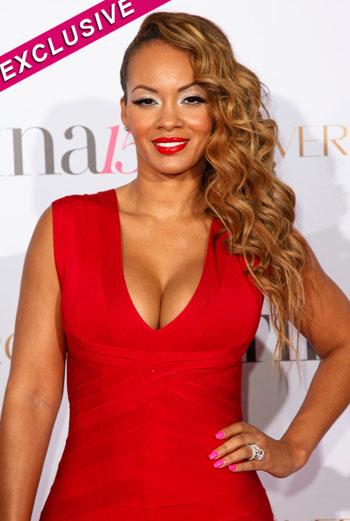 Article continues below advertisement
But as any fan of the VH1 hit is well aware, there is no love lost between Evelyn and Jennifer Williams, who started season four of the show with a bang when they got into an angry cat fight in the premiere episode.
"As of now, me and Jennifer are not friends and I don't think I will ever reconcile the friendship," the outspoken 36-year-old New Yorker told RadarOnline.com bluntly.
"In the first episode they talked about her being 'bougie,' when you are that person and you get a little bit of fame, you start believing the hype. She thinks she is better than everyone else."
Along with Williams, a new adversary has joined the cast in the form of Kenya Bell, who is already rubbing all the women the wrong way.
"Most of the cast members feel she's a little strange to say the least. She's not really someone I would hang out with after filming, she's not my type of person," explained Lozada, who compared the difference of the relationship to that of her friendship with other newbie, Kesha Nichols.
Article continues below advertisement
"Kesha always remained herself and didn't change, she wasn't trying to do anything to make her mark on the show, but with Kenya she is not being herself and tries really hard to fit in.
"When you come into a fourth season, you smell B.S. from far away. It's best to be yourself, that's why I took a liking to Kesha. She is a really sweet girl and always seems like she is the same person on and off of the set."
Luckily for those who don't like Nichols, Evelyn predicts that she won't be around for long. "I think her fakeness could definitely be Kenya's demise."
Lozada went on to reveal that the source of some of the the most sizzling upcoming drama is Shaquille O'Neal's ex-wife, Shaunie, who gets into an out-of-character clash with another mystery Basketball Wife.
"Shaunie actually gets into a conflict with one the cast mates, she's usually quiet and stays out of the mess. She did have an issue with one of the ladies on the show, and I think viewers will be surprised that she voiced that and who that person ended up being," she told RadarOnline.com.
Article continues below advertisement
After joining the show four years ago when she was engaged to NBA star Antoine Walker, Evelyn admitted that occasionally she regrets living her life in the spotlight.
"I have my moments, sometimes you may say something and then look at it after filming and regret it. We all have those moments," she explained, adding that she'd make different decisions regarding a certain broken friendship if it wasn't for the sake of the spotlight.
"I would have told Jennifer never to talk to me again, but that doesn't make sense on the show because there are cameras here and you have to tell the story even if it can be frustrating."
Along with filming the fourth season until the end of March, Lozada has her hands full with her new makeup line, E By Evelyn, her first book The Inner Circle, to be released in June, and most importantly, her upcoming wedding to New England Patriots player Chad Ochocinco.