Basketball Wives Smackdown! Jennifer Williams And Evelyn Lozada Get Their Claws Out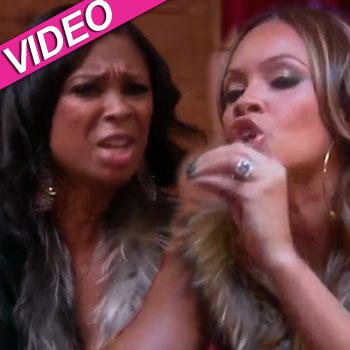 By Debbie Emery - RadarOnline.com Reporter
Tensions are already high on the new season of Basketball Wives as two of the show's most dramatic divas almost came to blows on Monday's premiere episode, and RadarOnline.com has video of their angry catfight.
There was no love lost between Jennifer Williams and Evelyn Lozada at the end of last season, and the time apart hasn't brought them any closer together.
After falling out over a radio interview in which Jennifer dished on Evelyn's love life, the pair are now fighting about a blog post that Williams claims her publicist wrote.
Article continues below advertisement
A civilized sit-down soon turned into a vicious cat-fight as the women got even testier than fouled players on the court.
"You think it's real smart that you have people writing stuff for you that you don't approve?" Evelyn, who is engaged to New England Patriots player Chad Ochocinco, screeched, with her long nails flared ready to attack.
"I would prefer if you had an issue with me then you would come to me," replied Jennifer, then what followed is a whole series of beeped out profanities from both women!