Exclusive
Evelyn Lozada -- From Basketball Wives To Football Fiancé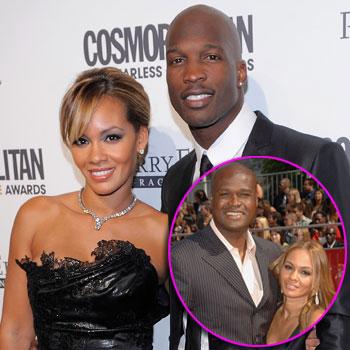 Who is Evelyn Lozada?
Everyone is talking about the Basketball Wives' hottest star and now her fiancé Chad Ochocinco is playing alongside Tom Brady, she's set to become the next Gisele!
For those not familiar with reality TV's fastest rising star, 35-year-old Lozada won her role on VH1's Basketball Wives because she was engaged to NBA player, Antoine Walker.
Born in Brooklyn, New York of Puerto Rican descent, sexy single mom Lozada moved to Miami to be by Walker's side when he played basketball for the Heat.
Article continues below advertisement
The entrepreneur and fashionista now co-owns an upscale show boutique called Dulce in Coral Gables, while her ex-fiancé, Walker, filed for Chapter 7 bankruptcy in May 2010.
After proclaiming that she would never date another athlete, Lozada has since traded up to NFL wide receiver Ochocinco, who recently signed with the prestigious New England Patriots, who are the favorites to win this year's Super Bowl even before the season has even begun.
"I am so happy, I can't even tell you. It's crazy how things work," Evelyn told VH1.com after her engagement last year.
"It's not something I forced. I'm still kind of in shock that this is where I'm at in my life, and I'm engaged to friggin' Chad. People really thought that this was a publicity stunt. I wouldn't do that. I'm not that desperate for attention."
"Chad is a whole other level from my ex," she went on to gush. "He's sexy and he's fine and we have this real attraction for each other."
Article continues below advertisement
Her latest fiancé is no stranger to reality TV either, Ochocinco: The Ultimate Catch also aired on VH1 and followed the loud-mouthed football player as 85 women fought for his attention. Ochocino, who's real name is Chad Johnson, picked Rubi as his 'ultimate catch,' but it was ultimately Evelyn who won his heart.
The couple actually met on Twitter after filming scenes for their respective shows and Chad was still competing on Dancing With The Stars.