Exclusive
VIDEO: Basketball Wives Star Meeka Claxton Slams Royce Reed: 'She Crossed The Line'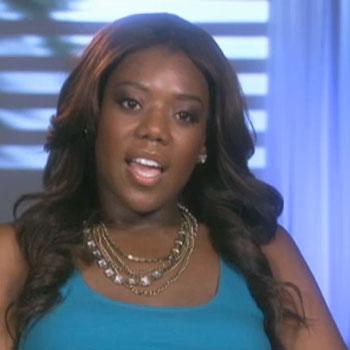 It's just the beginning of Season 3 of VH1's hit reality show Basketball Wives and the explosive drama has already begun!
In a bonus clip that did not air, new cast member Meeka Claxton goes straight for the kill and slams co-star Royce Reed, saying "she crossed the line" referring to when Royce was a former Orlando Magic and Miami Heat dancer and had a child with Magic star Dwight Howard.
Article continues below advertisement
NBA rules are very strict concerning dancers and firmly state that they are not to fraternize with players.
"I think what bothers me most about Royce is she was a dancer," Meeka tells her hubby Speedy, a retired Golden State Warrior player.
"She crossed the line. I don't know how I can be a wife and be her friend. You know how I feel about stuff like that."
Meanwhile, Royce defended herself against the criticism, claiming she has the right to be with whomever she wants.
"Ok, it was a rule you're not supposed to fraternize with players, however, you can't really tell someone who they can and cannot be with," she said.
With these wives it's guaranteed there will be much more drama off court than on it seems.
You can watch the clip here on RadarOnline.com.
You can catch Basketball Wives on VH1 Monday nights at 8/7 Central.
VH1 TV Shows | Music Videos | Celebrity Photos | News & Gossip