Miami Heat Star Chris Bosh Sues Ex Over Privacy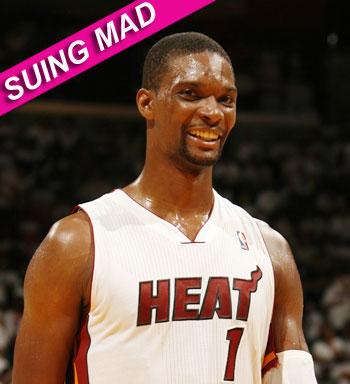 by Radar Staff
Miami Heat superstar Chris Bosh doesn't want his ex to appear in the upcoming season of Basketball Wives – and he's suing her to make sure she doesn't.
Bosh, who's currently in the NBA playoffs with teammates LeBron James and Dwyane Wade, is worried baby mama Allison Mathis would squawk about him on the VH-1 reality series. Season 3, co-starring Boston Celtics star Shaquille O'Neal's ex-wife, Shaunie, is scheduled to premiere March 30.
Article continues below advertisement
According to a lawsuit filed this week in a Los Angeles court, Bosh says: "Though the reality television show is titled, 'Basketball Wives,' the featured women in the show are not the current wives of NBA players. Instead, the show follows the lives of women who are dating or who dated NBA basketball players or who were formerly married to NBA players."
Bosh, who was secretly married to tiny Adrienne Williams last month, says the ex-galpal would enrich herself "unjustly" if she were to be talking trash about him on the show.
The suit also claims Mathis wants to use her TV appearance to become a major celebrity.
Bosh, meanwhile, might be right to worry. Mathis hasn't been shy about spilling some beans on her relationship with Bosh. Usually, it's in family court, where she once accused him of not paying support for the child they have together. He denied.
RELATED STORIES:
Lakers Player Arrested For Allegedly Assaulting Female IHOP Cashier