Exclusive
From Basketball Wife To Football Bride: Evelyn Lozada Spills On Her Wedding Plans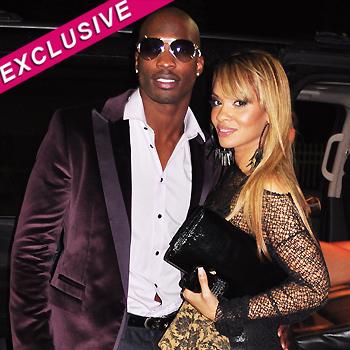 Article continues below advertisement
"It's Florida in Palm Beach in July and I'm currently busy planning. I don't have my dress but I have a potential designer," the 36-year-old VH1 reality star told RadarOnline.com in an exclusive interview.
"I am calm so far, I don't think I am a Bridezilla, but talk to me in May or June and it may change. I am not making everyone participating in the wedding lose weight or anything like that!" she joked.
When it comes to the guest list, she admitted that it is getting a bit out of control. "I started with 150 people and I think it will be 250," revealed Evelyn. "The list is the biggest headache.
"Who is going to sit where, who doesn't like this person. You have both families chiming in. I initially wanted something smaller, but Chad is a big personality and if I leave it up to him he will have animals running around.
Article continues below advertisement
"I am definitely inviting my Basketball Wives cast mates, and he's having his New England Patriots teammates and coaches from his past team, the Cincinnati Bengals come."
One person who is certainly not going to be getting an invitation in the mail is Lozada's on-air adversary, Jennifer Williams, who she's already gotten into a cat fight with in the premiere episode of the show's fourth season.
"Jennifer is definitely not invited, it really wouldn't make sense as she really wasn't supportive of my relationship from day one," said the outspoken New Yorker. "I want people who are really, truly happy for us. She never really cared."
Of course, before the big day comes the big night out to celebrate the end of single life – but the devoted couple enjoy being together so much that they plan to have a joint bachelor/bachelorette party.
"I'm excited because we're going to do a duo and have our parties together, but we haven't decided where yet," said Lozada, who admitted, "I am not really into male strippers, something about thongs doesn't do it for me." We're sure Chad feels the same way!
Article continues below advertisement
And what about after they have said "I do" and are man and wife?
"We don't have honeymoon plans yet because he has to report to NFL training camp in August, maybe someone will give us one as a gift and we can go later in the year," she said.
As for whether she will take Chad's unusual last name, "I would be OK taking Ochocinco as a last name. Recently he's been talking about changing his name back and told me I could take Johnson."
Her husband to-be legally changed his last name from Chad Johnson to Ochocinco in August 2008 (two years after he began wearing it on his jersey) to represent his team number 85 in Spanish.
Having met on Twitter and spent most of their relationship in the spotlight, it's no surprise that the out-going pair are keen to have their wedding air on primetime too.
"If it works out for the both of us we would do it on TV, there is some interest but nothing is set in stone yet," she revealed. "The Patriots would let him do that because he wouldn't be playing then as it would be out of season, coach Bill Belichick is very strict during the season but he wouldn't be opposed because it's the off-season.
Article continues below advertisement
"We would probably do a few episodes running up to the wedding and air it outside of Basketball Wives."
Their wedding will be the second big day on Chad's calendar this year, after he and his New England Patriots teammates played – and sadly lost – the Super Bowl earlier this month under the leadership of quarterback Tom Brady.
Evelyn admitted that although disappointed, the wide receiver was OK with the loss and coped better than she did.
"I was crying for sure! You get these special passes if you are family so that if they did win you can run onto the field and I was all ready to rush out with his children and congratulate him, and then they lost," she explained.
"The kids were so torn, it was hard. They wanted to see their dad win so badly," but instead of sulking they made the most of the family being together.
"After that we literally went to the team hotel and went to the MacDonald's drive thru and we all sat in the car and spent time with him, and that was our night."