Gisele Bundchen Defends Tom Brady: 'My Husband Cannot F*cking Throw The Ball And Catch It'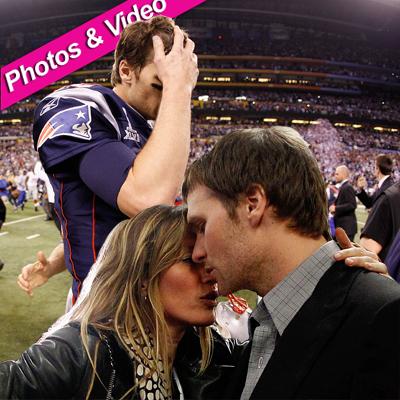 After watching hubby Tom Brady and his New England Patriots fall with a 21-17 loss in Super Bowl XLVI, supermodel Gisele Bundchen was overheard complaining, "My husband can not f*cking throw the ball and catch the ball at the same time," knocking the team's pass-catchers.
"I can't believe they dropped the ball so many times!" the Brazilian bombshell, 31, said as she made her way through Indianapolis, Indiana's Lucas Oil Stadium, according to theinsider.com.
Article continues below advertisement
PHOTO: Tom & Gisele Embrace After Super Bowl
After his second loss in four years at the hands of the New York Giants, Brady was far more politically correct -- and even a tad stoic -- about the close defeat, telling reporters football "always comes down to one or two plays.
"If you make it, you're celebrating," he told the Boston Herald. "If you don't, then you don't sleep for a week."
Bundchen turned heads last week when she issued an e-mail urging fans to pray for her husband "so he can feel confident, healthy and strong."