Exclusive
Basketball Wives Star Evelyn Lozada Reveals 'Solid Friendships' Are Sacrificed This Season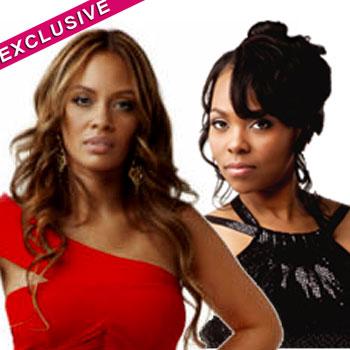 Article continues below advertisement
"There are people who you think are solid and who are no longer friends, there are definitely friendships that don't last, aside from mine with Jennifer."
Someone that Evelyn has never been friends with is Kenya Bell, who she was seen throwing a bottle at in an explosive episode earlier this month.
While Lozada doesn't regret the fight and what she said, she revealed she does feel bad about losing control. "I do regret throwing the bottle, Shaunie (O'Neal) was there, and her or one of my castmates could have been hurt. Things went too far and I will definitely apologize for that.
"I would have felt bad if Kenya had been hurt, she's a mom with two children, so God forbid if she'd have been hurt, and I could have gone to jail!" she explained, adding: "My anger got the best of me with that."
As RadarOnline.com previously reported, Lozada wasn't a fan of Kenya from the get-go, and predicted at the beginning of the season that "her fakeness could definitely be Kenya's demise."
Spending more time with the new cast member certainly hasn't changed her opinion, and just deepened her disdain. "There were a lot of things going on while the cameras were off as well as on. She was always stirring the pot behind the scenes and saying things to producers to be relevant on the show," Evelyn revealed.
Article continues below advertisement
"It is hard for me to respect you when you are coming in and not being yourself. Her personality changes with whichever cast member she is with at the time filming.
"It is a strange relationship there, I don't say friendship because we're not friends," she said, explaining that since their last face-off tensions have eased slightly at least.
"Now, we're not best friends, but I don't hate her either."
MORE ON:
Keeping Up With the Kardashians
She may not care about what Kenya thinks of her, but Evelyn does look up to a certain other curvaceous reality star and celebrity mogul, and was flattered to hear that she had been compared to Kim Kardashian.
"Being compared to her is pretty cool, from a professional and a business stand point it is a huge compliment," Lozada, who recently launched her own make up line and is soon set to walk down the aisle with NFL star Chad Ochocinco, gushed to RadarOnline.com.
Article continues below advertisement