Exclusive
Chad 'Ochocinco' Johnson's Firing From The Miami Dolphins Caught On Tape!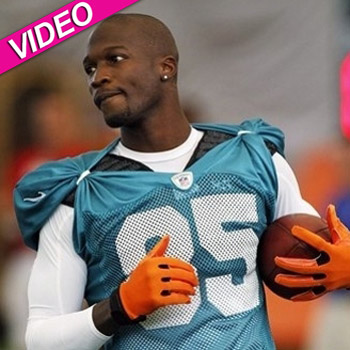 Article continues below advertisement
The team was already frustrated with the loud-mouthed wide receiver for his constant tweeting and a recent F-bomb filled tirade in a news conference, so allegations that he physically attacked his wife of 41 days on Saturday that landed him behind bars were the last straw.
"His temperament isn't great for us," coach Joe Philbin can be heard saying on the phone before a very humbled Chad walks into his office mumbling: "I let you down a little bit… or a lot."
Watch the video on RadarOnline.com
"Your message got across clear when we met," number 85 went on to say. "I understood what you wanted from me and needed from me – especially after our talk about having fun and the media thing. I apologize for embarrassing you with this altercation."
His apologies came too little and too late, however, as the coach told him, "I don't know that this is working for the benefit of you, me, the Miami Dolphins or anyone less."
Article continues below advertisement
Johnson's latest firing is just one aspect of a very rough week for him since Saturday's arrest, which includes a simple domestic battery charge, his and Evelyn's reality special Ev & Ocho being canceled by VH1, Lozada filing for divorce, and claims by an alleged former mistress that they had an affair in the months leading up to his July 4th wedding.
After a noted absence from Twitter for the since August 11, on Tuesday Chad changed his profile photo to a sign indicating he was between a "rock and a hard place," and tweeted: "I haven't had to tread water in a long time... special thank you to my fans...family...friends for keeping me afloat…"
Later during the standoff in the second episode of Hard Knocks, Philbin told him: "I acknowledge that people make mistakes, nobody knows that more than me."
The player, formerly known as Ochocinco, then fought for forgiveness as he claimed: "Coach, I have never been in trouble before," a statement which is in strong dispute following reports that he was arrested in 2000 for hitting an ex-girlfriend and allegations that he had beat Evelyn before, along with multiple personality problems during his tumultuous NFL career.
Article continues below advertisement
"I buy into your program completely. After that talk we had I was hushed, and I was going to stay that way the entire year," begged Johnson.
Unfortunately for Chad, Philbin was not backing down and told him straight: "It's not just last night, it's where we are as a program, where you are, where we're headed – I just don't see the mesh right now. I wish it was different, I wish I could tell you something more encouraging, but I just think it is the best for both of us to part ways at this point," said the coach, as he stressed that he wasn't trying to make an example of him.
"It's more about how you fit in, how we fit in together, where this thing is heading – I just don't see it being where I thought it would be or hoped it would be. It's not good news, it's not good news for us either."
For once, the loud-mouthed six-time Pro Bowler was at a loss for words and simply thanked his ex-boss for the opportunity before doing the walk of shame into the locker room to take down his name.