Exclusive
Chad 'Ochocinco' Johnson Has Been Physical With Evelyn Lozada Their Entire Relationship, Claims Pal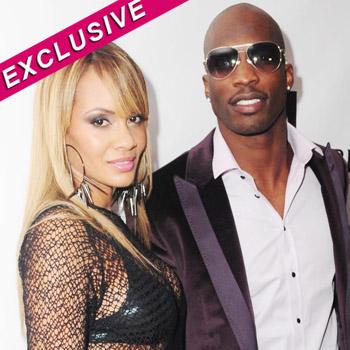 Article continues below advertisement
"Chad doesn't like Evelyn's party lifestyle and it made his anger worsen. He hated the way she acted on TV and would often lash out at her for any little thing."
According to the insider, Chad and Evelyn's marriage — which rivaled in it's short length Kim Kardashian and Kris Humphries' 72-day marriage -- came to a screeching halt on Tuesday when Evelyn filed for divorce after only 41 days of not so wedded bliss, and it was no surprise to close friends.
"Chad and Evelyn's marriage was volatile in nature and a mistake from the start," the pal said.
"He Chad went off the scale at her once because he was tired of having Evelyn's friends, like her assistant and stuff, living in his house."
Things got so bad between Chad and the Basketball Wives star that the insider said friends were genuinely concerned for her safety.
"She told me that Chad threatened to kill her one time and that was really a red flag," the source said.
Article continues below advertisement
"But only a small circle of her friends knew what was going on and it was hard to convince her to get out of the situation."
As RadarOnline.com first reported, the former Miami Dolphins NFL star also cheated on Evelyn with a Boston woman named Beverly Shiner who claims to have "dated" him from January until May.
Watch the video on RadarOnline.com
"Given recent events in my client's life, she has decided to file for divorce and move forward with her life," Evelyn's attorney exclusively told RadarOnline.com.
Evelyn also released her own statement on Tuesday stating: "I am deeply disappointed that Chad has failed to take responsibility for his actions and made false accusations against me, it is my sincere hope that he seeks the help he needs to overcome his troubles.
"Domestic violence is not OK and hopefully my taking a stand will help encourage other women to break their silence as well. I'm grateful to my family, friends and fans for the outpouring of support during this difficult time."