Exclusive
Evelyn Lozada Dishes On Drama-Packed Wedding Day & Married Life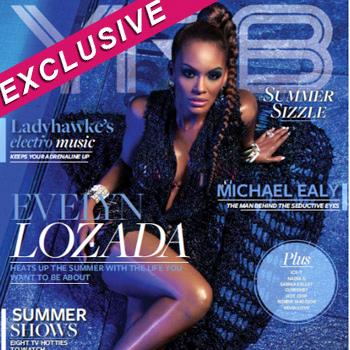 Article continues below advertisement
"There was an earthquake on our wedding day!" Lozada told RadarOnline.com in an exclusive interview. "We were in the Caribbean on the island St. Maartin, I didn't even think they had earthquakes there."
Luckily the rumblings below the surface didn't unsettle the event at the Le Chateau des Palmiers beachfront, and while she is waiting for their VH1 special Ev and Ocho to air before saying too much about the big day, the bride gushed about her Ines Di Santo wedding dress, "it had a hint of blue to match Chad because he had a blue suit on," and her costars Shaunie O'Neal and Suzie Ketcham who flew to the tropical island to see her say "I do."
"I can't say if we had any wild animals there, that was a huge bone of contention and you'll have to wait and see it on the show," Evelyn teased.
The couple are now settling into marriage life and the 37-year-old is shocked at how easy it is. "We're just the same as we were before, it definitely lives up to my expectations but hasn't been hard to adapt to.
"I am just happy to be able to relax and have life slow down. I was so busy before planning the wedding and filming, it's good to have some downtime finally!"
Article continues below advertisement
Just like every new married couple, the next question on everyone's lips is will there be any little Ochocincos on the way?
"Chad asks me every other day if I want to have children but I just don't know, I have a 19-year-old daughter (Shaniece) who is at college," Evelyn told RadarOnline.com.
"I've done the kids and motherhood thing and am enjoying concentrating on my career and the reality show. There are so many doors opening up to me right now."
Even if they do had children, the issue of what their offspring will be named still hangs in the air as Chad, who legally changed his name from Johnson to Ochocinco (Spanish for eight five, his jersey number) but has recently backtracked.
"Right now, I am the only Ochocinco in the house!" explained Evelyn. "Chad changed his name back to Johnson after the wedding but I am officially Evelyn Alexandra Lozada Ochocinco Johnson.
Article continues below advertisement
"He wanted to go back to his real name because we were getting married and he wanted it to live on."
Whatever they are called, the couple are delighted that the NFL wide receiver was signed by the Miami Dolphins after being cut by the New England Patriots earlier this year.
"We're so excited that Chad was traded to Miami. We live here in the off-season and he grew up in Florida so it's perfect."
The move ups the reality TV opportunities for both Chad and Evelyn, as HBO's Hard Knocks show, which focuses on a different NFL team's drama during training camp each year and picked the Dolphins to be the stars of the show for 2012.
"We'll definitely be featured in Hard Knocks, it's very different to Basketball Wives but still lots of fun, its just all related to football," said Evelyn, who explained that even though she hasn't yet signed a new contract with the VH1 show that made her famous, she is sure she'll be back.
Ev and Ocho airs on VH1 on September 3, and meanwhile Evelyn graces the cover of the new issue of YRB magazine.