Here Comes The Bride! Chad Ochocino Live Tweets His Wedding To Evelyn Lozada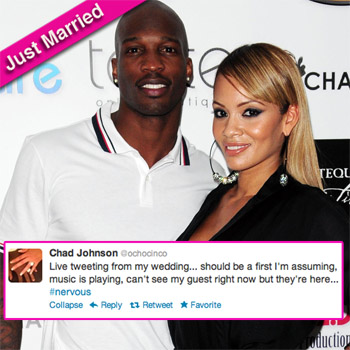 Article continues below advertisement
"I'm still turnt up, haven't seen Eve all day, some tradition bull s**t, I'm on MW3 eating a PB&J waiting to walk down this aisle, y'all busy," he wrote as he was getting ready to tie the knot with his fiancée, whom he has been engaged to since November 2010.
"Live tweeting from my wedding... should be a first I'm assuming, music is playing, can't see my guests right now but they're here…"
Known as a tough guy on the football field and a fast-talker off it, even Ochocinco admitted he was getting pre-wedding nerves, tweeting: "I'm breathing like a pregnant lady in lamaze class right now... I was hoping continuing to tweet with y'all support would calm me down."
Among the guests was Cheryl Minton, 66, of Franklin, Ohio, who came to the wedding after Ochocinco invited her on Twitter and paid for her to fly out when she revealed that she had lost her husband two weeks earlier. The 4th of July would have been their 30th wedding anniversary.
As RadarOnline.com previously reported, the couple had butted heads many times over wedding plans, with Chad wanting a herd of exotic animals there when they walked down the aisle.
Article continues below advertisement
"He wanted to have animals at my wedding, and I didn't agree with that vision, and that's something that he is not letting up on and now we are dealing with and I am now trying to find ways to compromise," Evelyn told RadarOnline.com in an exclusive interview.
The morning after the nuptials was a tough one for some of the guests as the champagne appears to have been flowing fast and furiously the night before.
"Okay I've been up since my usual 5am wake up time... entire wedding party/guests are still drunk I'm assuming since I'm the only one outside," Chad tweeted on Thursday morning, and when he was told to get off Twitter and get back to his wife, he replied: "She got Jack Ass the movie wasted, she won't respond."
The wedding will air on VH1 in September in a spin-off show chronicling their romance titled Ev and Ocho.