VH1 Pulls The Plug On Ev & Ocho After Chad Johnson's Domestic Violence Arrest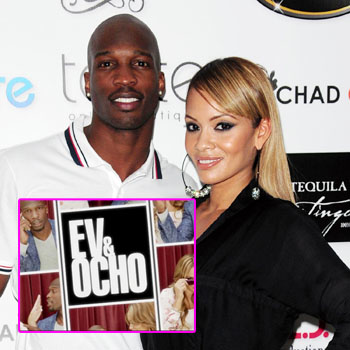 Article continues below advertisement
As RadarOnline.com previously reported, the altercation started when the couple was driving home from dinner and Evelyn found a receipt for condoms in the car. The argument turned physical, Lozada told cops, and her husband headbutted her!
"She has a pretty good-sized laceration on her forehead," Davie, Florida Police Capt. Dale Engle told The Miami Herald. The six-time Pro Bowl receiver was released from jail on $2,500 bond Sunday after being charged with simple domestic battery, a misdemeanor.
The cancelation of the wedding special marks the second job that former football star Johnson has lost since his arrest. After being picked up by the Miami Dolphins earlier this year, Chad's contract was terminated by the team within 24 hours of the domestic abuse scandal.
"With any type of these decisions, it was not an easy one," said coach Joe Philbin, reported ESPN.com. "It was not reactive nor was it based on one single incident." He added that Johnson's release was mostly about how the receiver didn't "fit" with the Dolphins.
Article continues below advertisement
Just two weeks ago, Lozada had talked excitedly to RadarOnline.com about her love of married life and her dream 4th of July wedding on the Caribbean island St. Martin.
"We're just the same as we were before, it definitely lives up to my expectations but hasn't been hard to adapt to," the 37-year-old told RadarOnline.com about her marital home with the NFL player.
Both Evelyn and Chad are avid Twitter fanatics – with Johnson even live tweeting during their wedding! - but neither of them have posted on the site since their explosive argument on Saturday.