LeAnn Rimes Parties Like It's Her Birthday, All Month Long!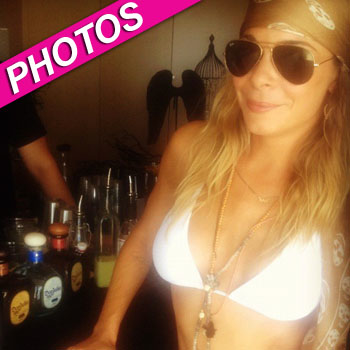 Rapper 50 Cent should be proud. LeAnn Rimes has taken the words of his hit In Da Club to heart and is partying like it's her birthday – all month long.
The country singer doesn't turn 30 for another week but she has been celebrating her big day by posting photos of herself in a series of skimpy bikinis.
The latest Twitter pic shows her wearing a teeny-weeny white string bikini while standing alongside bottles of booze.
Article continues below advertisement
"HUGE thx to @donjulio for providing the tequila and mixologist for my 30th bday!!!" she wrote.
As RadarOnline.com previously reported, Rimes kicked off her birthday month by celebrating with her family in Malibu a couple of weekends ago.
And, as the end of her 20s draws near, she has treated fans to picture after picture of herself in barely there swimwear.
She even tweeted a photo of herself posing with The Righteous Brothers singer Bill Medley.
Rimes wrote: "Happened to run into Bill Medley on the beach yesterday. I've been singing 'Unchained Melody' since I was 6. good man."
In yet another photo she is shown smooching with her husband, actor Eddie Cibrian. The caption reads: "THIS is a HAPPY 30th BIRTHDAY!!!!??"
It apparently isn't all play and no work though. The stepmom of two also told her Twitter followers: "Gotta get off here soon.
"I have blogs to write, a website to finish today and kiddos to get ready for their first day of school…."