Forget Something Eddie? LeAnn Rimes' Hubby Steps Out Without Wedding Ring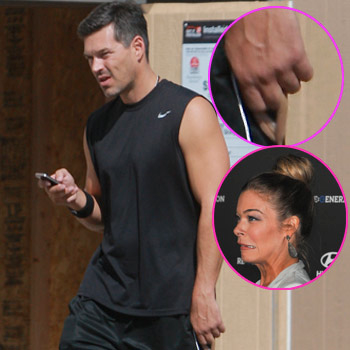 Article continues below advertisement
On September 26, LeAnn and her hubby were out together with his two sons at the Batman Live event and they both were sporting their wedding rings.
As RadarOnline.com previously reported, LeAnn was worried about Eddie possibly cheating when she entered a treatment center, so he might want to send the right message and remember to wear his ring!
Rest assured LeAnn, Eddie's rep told RadarOnline.com this is no big deal.
"He went boxing at the gym and he doesn't wear his ring at the gym, who wears their ring at the gym? Not many people do."
RELATED STORIES:
Didn't You Learn From LeAnn Rimes? Jacqueline Laurita & Caroline Manzo Get In Twitter Fights
British Fashion Designer Says LeAnn Rimes 'Has The Perfect Body & Looks Fabulous!'
LeAnn Rimes Recovering From Massive Infection After 'Dental Nightmare'
LeAnn Rimes On Why She Sought Treatment: 'It's Really Hard To Deal With Twitter And Facebook'