Didn't You Learn From LeAnn Rimes? Jacqueline Laurita & Caroline Manzo Get In Twitter Fights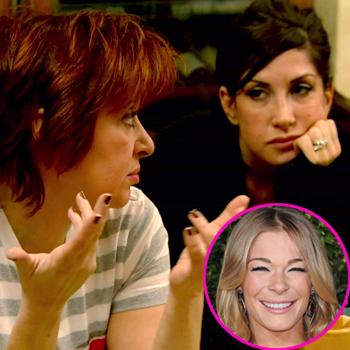 Perhaps Caroline Manzo and Jacqueline Laurita can learn a thing or two from LeAnn Rimes.
Both of the The Real Housewives Of New Jersey stars seemed to mix it up with Twitter users Monday, akin to the county singer's online online feuds that wound up with her suing two strangers and taking a trip to rehab to conquer her social networking addiction.
After a now-suspended Twitter user (@SherrierSteven) wrote to Manzo, "im tempted to put ur address on the internet...," she responded, "and you call me a bully."
Article continues below advertisement
Jacqueline was also rattled by critics on the micro-blog, writing Monday, "Haters can say & believe whatever they want about me. Truth is...It's not going to affect my reality.......or theirs. ;0) Life is good!
"I only have a small handful of groupie haters,but I get an enormous amount of support & I LOVE IT! XOXO! Thanks for understanding who I am."
Should the housewives turn the other cheek, or do trolling Twitter critics deserve their just due? Sound off in comments below!