Secret Witness Emerges In LeAnn Rimes' Lawsuit Against Teacher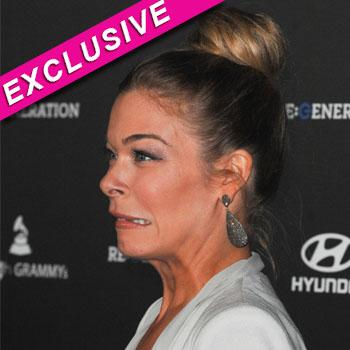 By David Perel - Executive Vice President/Managing Editor Radar
A person who was once close to LeAnn Rimes has emerged as a potentially crucial witness in the singer's lawsuit against Kim Smiley, a teacher and mother-of-six, RadarOnline.com is reporting exclusively.
The secret witness was close to Rimes when the incident at the heart of the lawsuit occurred and her information could be damaging to Rimes in the realm of public relations, multiple sources claim to Radar.
Article continues below advertisement
Rimes instructed some of her followers to send negative tweets against people who were pro-Brandi Glanville and anti-LeAnn, according to two people who spoke to the secret witness.
"LeAnn texted (the witness) a lot and those texts could play a big role in this suit," one source told Radar.
Radar has independently verified that the witness was close to LeAnn.
But a source close to Rimes' camp told Radar exclusively that LeAnn explicitly told her followers NOT to engage in harassing behavior against her detractors for months before she went into a treatment center recently to deal with anxiety and stress.
This latest development adds a bizarre and significant dimension to Rimes' lawsuit against Smiley. Rimes alleges the teacher taped their phone call without permission. The tape was later posted online.
The circumstances of Rimes' call to Smiley plus information from Twitter users who regularly interacted with the singer are now important issues in the case, Radar has learned.
The witness has spoken to several people and one told Radar: "(The witness) told me that LeAnn was obsessed with Brandi and her supporters… that she was jealous of Brandi."
Article continues below advertisement
The witness has told others that LeAnn often instructed her supporters what to tweet, and that many of those tweets were anti-Brandi.
"LeAnn would text her fans word-for-word texts of what to tweet to Brandi or (her detractors)," the source told Radar. "They were wild accusations."
And in a Nixonian maneuver, LeAnn also kept track of her twitter "enemies,"  according to the source, having her supporters send her screen shots of what they said about her.
People close to LeAnn say that's simply not true and that some people on Twitter who didn't approve of her actions targeted the singer. Those people say the notion that Rimes' kept an "enemies" list is absurd.
But one person who has spoken to the secret witness says they were told:  "LeAnn was obsessed with Brandi and her supporters."
As Radar reported exclusively, Smiley asked for and was granted an extension by LeAnn's high-powered attorney Larry Stein.
Article continues below advertisement
Rimes' reps have said she is the victim of cyber bullying and the singer went into a treatment center this year for anxiety and stress.
"While there will be speculation regarding her treatment, she is simply there to learn and develop coping mechanisms," her rep Marcel Pariseau previously told Radar.
Her supporters and detractors have engaged in a bitter Twitter war, with Rimes personally involved with many of her social media supporters (and detractors) in a way that some people close to her say was inappropriate.