Nice Grocery Store Getup, LeAnn! Rimes Steams Up The Market In Leather Mini And Stiletto Booties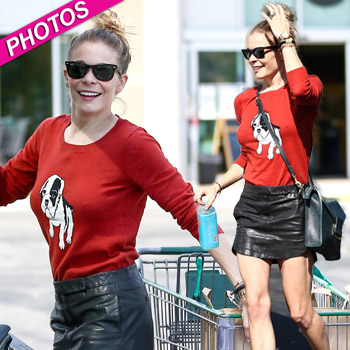 Most people shop for produce and household cleaning supplies in casual clothes, but not LeAnn Rimes!
The country star, who completed "stress" and "anxiety" treatment a few weeks ago stemming from a bitter Twitter war with a fan, got all dressed up in sexy attire and hit her local Calabasas grocery store to pick up supplies on Tuesday, and RadarOnline.com has the photos.
The 30-year-old, who seemed to be fully recovered from her recent dental nightmare, was all smiles as she pushed her shopping cart full of groceries and Halloween pumpkins out of Maddy's market, but it wasn't her purchases that grabbed attention.
Article continues below advertisement
LeAnn showed off her skinny legs in an ultra mini leather skirt, which she paired with a snug French bulldog red sweater and stiletto lace-up booties.
"Sweats, pork roast w/ veggies, my hubby…Heaven!" LeAnn tweeted on Tuesday night after preparing a meal for Eddie Cibrian with her newly purchased groceries. "I love when he comes home from work and I've got dinner ready. It feels so Lucy and Ricky."