LeAnn Rimes Sobs To Katie Couric, 'No One Can Quite Understand Why You Hurt So Badly'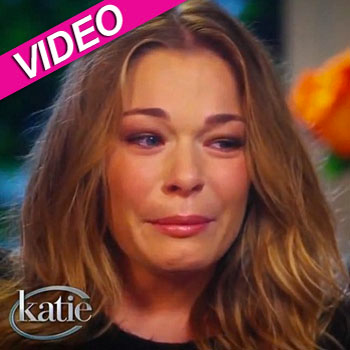 LeAnn Rimes is finally opening up and getting honest about why she checked into a treatment center for stress and anxiety.
In a preview of her first live interview since completing a 30-day treatment stint, the country star sobs to talk show host Katie Couric about how she has been misunderstood her entire life and her decision to finally get help for her issues, and RadarOnline.com has the video and details about her emotional interview.
Article continues below advertisement
In the interview, which will air on Thursday's Katie, Rimes explains how early fame stunted her emotional growth.
"I was this big voice, this little girl that no one really knew much about," she explains. "I couldn't really grow up even understanding who it was that I was."
Rimes, who checked into a facility the day after her 30th birthday, considers the experience a rebirth.
"I feel like I'm starting over even though I've had all these years behind me. How many people get to start over again in this day in age?" She says.
"I'd never taken a break for myself, to examine myself and to just learn who I am outside of LeAnn Rimes for 30 years."
Though her relationship with Eddie Cibrian, whom she hooked up with while the two of them were both married, wasn't mentioned in the preview clip, she alludes to the situation when Katie asks her why she thinks her life is covered extensively in the media.
"There's been so many lies," she claims. "I made my choices and I'm living with them."
Article continues below advertisement
She also shares that people cannot comprehend where her pain comes from.
"People look at you and go, 'why are you struggling?' No one can quite understand why you hurt so badly," she sobs to Katie.
LeAnn's interview with Katie Couric will air on October 25 and then the following day on a special All Access Nashville episode of 20/20.