LeAnn Rimes Opens Up About Affair With Eddie Cibrian, 'I Made My Choices And I Am Living With Them'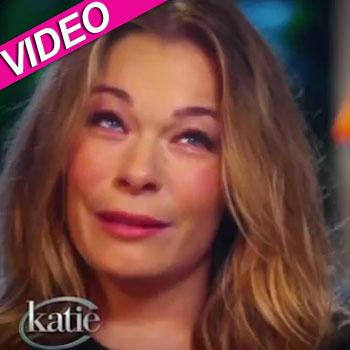 Having an affair is not easy!
LeAnn Rimes, who famously cheated on her husband Dean Sheremet with Eddie Cibrian, who was also married at the time, opens up to Katie Couric about the "difficult" time in her life on an episode of Katie set to air on Thursday, and RadarOnline.com has the details.
"The way you and Eddie Cibrian got together…you were married at the time, he was married at the time. And there were a lot of people out there who were not exactly wishing you well," Couric says to the 30-year-old country star.
Article continues below advertisement
"I wasn't sure if I was wishing myself well at the time," Rimes admits. "It was very, very difficult. Um…I wouldn't wish it on anyone…especially in the public eye to go through all of it."
When asked what that was like, Rimes, who recently completed a 30-day stint in a treatment facility for "stress and anxiety," admits her fault, but also points out that she isn't the only person who has done something like this.
"I made my choices, you know? I made my choices and I'm living with them. And I also have learned from them and I've talked about this so much. But I know that…I'm not the only person that goes through this. There's so many that do. And there's so much on the new album that I do share."
Katie Couric's complete interview with Rimes will air in a special edition of 20/20, All Access Nashville, airing Friday on ABC at 9 p.m.