Ashton Kutcher Still Apologizing For Tweet On Joe Paterno Firing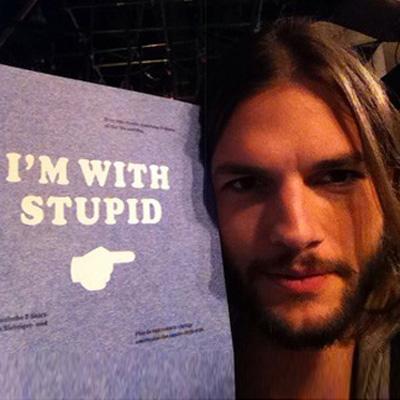 Radar Staff Writer
Ashton Kutcher continues to show remorse over his initial support of dethroned Penn State head coach Joe Paterno, following the 84-year-old's firing from the institution for a tepid response to accusations his underling Jerry Sandusky molested boys for a 15-year span.
After a series of apologies Thursday -- and a vow he'd turn the account over to a management team -- the Two and a Half Men star sent two more tweets late Thursday, again admitting his wrongdoing.
Article continues below advertisement
First he tweeted "What's a picture worth?" linking to a pic of himself standing next to a sign that read, "I'm with stupid."
Then he wrote, "I'm just trying to be a good person."
As we previously reported, the 33-year-old star of The Butterfly Effect sent an angry tweet reacting to Wednesday night's news of Paterno's ouster, but later admitted he was unaware of the Sandusky scandal that led to the firing.
"How do you fire Jo Pa? #insult #noclass as a hawkeye fan I find it in poor taste," Kutcher tweeted to more than 8 million followers. (He later deleted it.)
Immediately, Kutcher was greeted with a firestorm of negative responses, provoking the actor to explain that he spoke too soon and wasn't aware of all the facts in the matter.
"As an advocate in the fight against child sexual exploitation, I could not be more remorseful for all involved in the Penn St. case," wrote Kutcher, who runs The Demi and Ashton Foundation, a nonprofit he set up with wife Demi Moore to help end child sex slavery. "As of immediately I will stop tweeting until I find a way to properly manage this feed. I feel awful about this error. Won't happen again."